Intro to IP Cameras
Our IP Cameras shoot can shoot in HD at 1080p, 4MP, and 4K
Resolution is measured in Megapixels
Recorded by a NVR, rather than a DVR
The IP Camera Difference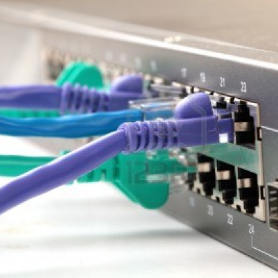 IP cameras are Digital and connect via Cat5 (Networking) Cable
IP cameras are digital cameras.
Cat5 Cable, as shown in the image to the left, is the cable used in creating computer networks. With an IP camera system, this one wire caries both your video data and your power. The power is added by the NVR (if you made a home run and are using our Networker Pro POE models, which has built-in POE ports) or you can use a POE injector or POE switch to power your cameras at convenient locations.
The resolution of IP cameras is measured in Megapixels and they record in HD and Beyond
Because IP cameras are digital cameras you measure their resolution in megapixels rather than TV Lines. TV Lines is the measurement of old 1980's-TV quality cameras.
Our IP cameras come in four resolution options: 2.0MP which shoots at 1080P, 4.0 MP (which is 2x 1080P), and 4K (which is 4x 1080P).
Understanding the image quality difference between 4MP, 4K, and 1080P.
You record an IP camera with a NVR. Some NVRs on the market are really terrible (and can't record even 1080P HD footage on every channel), but all of ours can record at least 4K at 30 FPS without any framerate or camera limitations.
Sample Footage from Our 1080P IP Cameras
1. Better Resolution: 1080P to 4K
The main selling point of IP cameras is the increased resolution.
HD quality recording makes identifying faces and license plates much, much easier than standard definition. Although IP cameras are more expensive, HD recording can also mean that you don't need to purchase as many cameras to properly secure an area, since you can record at a wider angle and still get footage that can identify suspects and be used in court.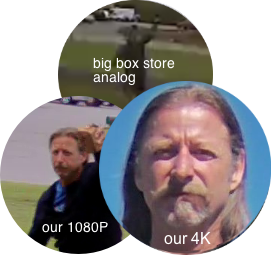 2. Plug & Play Ease of Use
With our line of Admiral and Admiral Pro POE NVRs and our SCW IP Cameras you'll have no trouble installing and configuring the cameras. Just plug the single Cat5 cable into the NVR's POE ports, and the NVR will setup, manage, and power the Admiral line cameras for you.
One cable and you're done.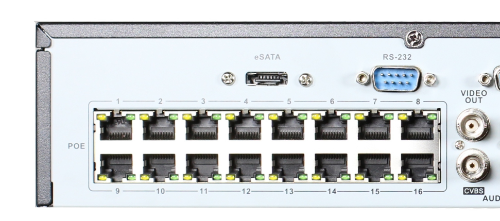 3. Video Analytics
Video analytics is a series of technologies that automatically analyzes video to detect and determine events not based on a single image but upon the change in the video stream.
Even our most basic cameras have video content analysis including Line Crossing, Intrusion Detection, and Face Detection that can switch on recording or trigger Snapshot. Snapshot can either automatically upload images to your FTP server or send those same images to you as an Email Alert. PC, Mac, Android, and iOS software is also included free.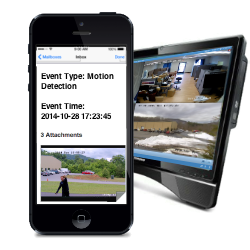 Choosing the Right IP Camera for Your Needs