IP PTZ Cameras
HD Cameras that can Pan, Tilt, and Zoom when controlled by our NVRs, Software, Webview, or Joystick
Zoom capabilities from 4x to 36x
Our PTZs have Presets, Patrols, VCA Preset Calls for Automations, and Autoguard.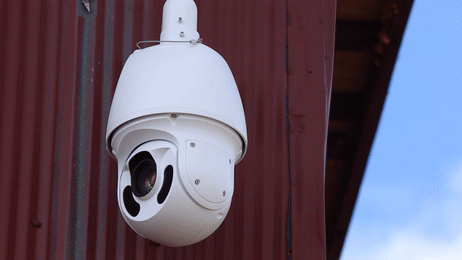 Versatility and Zoom
Pan Tilt Zoom or PTZ are sophisticated, advanced security cameras. They give the user tons of flexibility in seeing large and far away areas by being able to zoom in, out, spin 360°, and tilt up and down. This guide, Beyond Pan and Zoom: 6 Amazing Things You Can Do With SCW PTZ Cameras, explains many of the features found in SCW PTZ cameras.
Zooming with PTZ Cameras
PTZ cameras have optical zoom or digital zoom. Optical is far preferred (click here for a knowledge base article comparing the two). The first image is 2.8 mm (1x zoom), the second at 4x zoom, the third is at 20x, and the last is at 30x zoom. The dumpster is about 150 feet from the camera.

IP cameras are network devices (they have their own network addresses that you can visit) that create digital HD video directly on the camera then stream that video back to a Network Video Recorder (NVR), web browser, or smart phone.
Our IP PTZ Camera selection
/ images
About IP PTZ Cameras
IP PTZ Cameras are cameras that possess the ability to Pan Tilt and Zoom in on targets and areas by use of a surveillance team and a joystick / mouse and keyboard combo. IP PTZ Cameras are often used by the military, private security companies, large retailers, airports, shipping yards, ports, and industrial compounds, but home use is also growing. One of the main benefits of PTZ cameras is the ability to zoom in and investigate further without alerting the person who is being recorded.
Network PTZ Camera Uses
Sometimes IP PTZ Cameras are referred to as "High Speed Domes." Although they are supposed to describe PTZ Cameras with a dome shell, the definitions are not as solid as they seem as there can be many combination of features sets within the PTZ/Dome Hybrids. Because of this, some people refer to all PTZ Cameras as High Speed Dome Cameras.
IP PTZ Camera Recommendations
It is our recommendation that when looking at PTZ network cameras, that you worry less with the digital zoom and more about the optical zoom. Optical zoom actually increases the number of pixels being recorded while digital zoom only make those pictures appear larger. Optical zoom is vastly better than digital. Here's a comparison of the two with pictures.