Commercial Security Cameras and NVR Surveillance Systems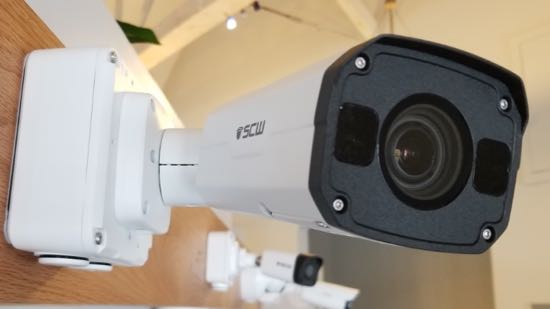 Talk with an expert:
828-373-6865
Our staff is available from 9-6 Monday - Friday (EST).
How SCW Defines Commercial Grade Security Cameras:
Our Admiral Line IP Cameras are commercial grade. Here's what that means to us:
1. To be Commercial Grade, the Security Camera Must Be Tough Enough to Handle Environment Challenges:
---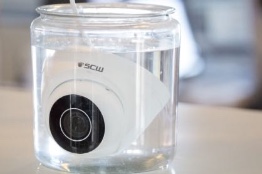 IP67 Rated Weatherproof Housing
We define commercial grade as having a IP67 rating, which means that International Electrotechnical Commission's (IEC) international standard 60529 has rated our camera housings as having full protection from dust and safe from water damage up to powerful jets of water and immersion up to 1 meter up to 30 minutes.
This means that these security cameras can be safely used outdoors.
Please note: The IP67 rating covers the camera's housing not the cable. Don't ever submerge cables. Please follow our RJ45 Waterproofing guide for weatherizing your cable connections.
*Exception: Our 360 degree panoramic camera, the Radius 12.0, is IP 66 rather than IP67 rated.
---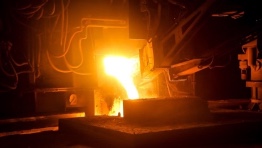 Commercial Grade Aluminum Molding
Our commercial grade security cameras have a cast aluminum and ceramic molding housing, instead of the typical plastic molding commonly found in the consumer grade products.
This also means that our commercial grade products have passed vibration tests, can withstand an electrical surge up to 6,000 volts, and the casing will prevent intrusion of both dust and water into the internal component space. The screws and mounting hardware are made of stainless steel that have passed SUS410 salt spray anti-corrosion testing. We use automotive grade LEDs and anti-reflection glass (which means better infrared results). In short, these cameras are going to hold up over time.
---

UL Listed and FCC Certified
Commercial grade products must be UL Listed and FCC certified.
UL is a safety consulting and certification company headquartered in Northbrook, Illinois and provides safety-related certification, validation, testing, inspection, and auditing of SCW products.
The Federal Communications Commission has certified that the electromagnetic interference from the device is under limits approved by the FCC.
---
3 or 5 Year Warranty
Our commercial grade cameras and recorders come with a 3 year warranty. This warranty can also be upgraded to a 5 years. We recommend doing so for commercial clients.
2. To be Commercial Grade, the CCTV Camera Must Be Able to Take High Quality Images - Even in Challenging Conditions:
---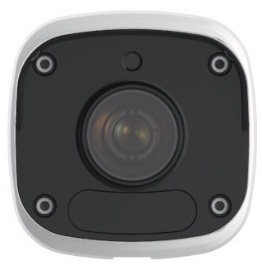 Anti Reflective Glass
Our commercial grade IP bullet cameras have Anti Reflective Glass.
Anti Reflective Glass allows better light transmission vs standard glass. Standard Glass cameras often come with a foam ring around the lens to prevent infrared light from bouncing back off the glass and entering the lens. This bounce back can cause extreme differences in infrared lighting, which makes some items too bright and others too washed out if the ring is loose, ripped, or removed. Anti-Reflective Glass prevents this issue. Also, people have a tendency to accidentally destroy, damage, throw away, or lose these foam rings. Anti-Reflective Glass reduces maintenance and user error.
---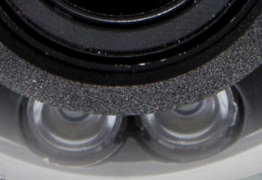 Auto Grade LEDs
Our commercial grade infrared cameras have Auto Grade LEDs.
Many IP cameras include low quality infrared bulbs that fail over time. Our commercial grade surveillance cameras have Automotive Grade LEDs, so you should expect the same sort of longevity from them as the headlights in your car.
---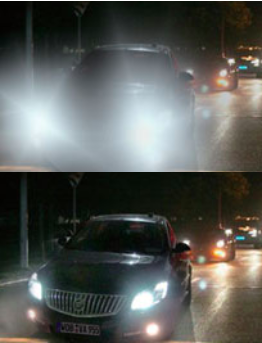 Headlight Compensation
Cameras in a commercial environment often have to keep track of vehicles and license plates, so our commercial grade lineup has Headlight Compensation.
Vehicle headlights directly into the camera lens can render many cameras useless. Headlight compensation reduces glare and overexposure due to car headlights.
At SCW, we try not to use the misleading term "License Plate Camera." The term "License plate cameras" is used rather flippantly by the security camera industry, has no real definition as a term, and can sometimes mean simply the presence of HLC; be careful with companies offering a simple solution to a very complex task of capturing license plates.
For more info, please read our knowledge base article on What they don't tell you about License Plate Cameras.
---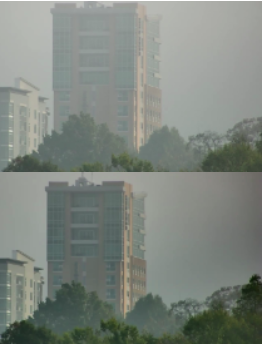 See through Fog with Automatic Defog
Our commercial grade security camera lineup has Automatic Defog.
Our automatic defog feature allows you to cut through fog, air pollution, and other atmospheric haze, allowing you to see further - even in adverse weather conditions.
---

Adjustable Shutter Speed for Customizable Performance in Low Light
Our commercial grade security cameras have an Adjustable Shutter Speed in a range between 1/30s to 1/100,000 of a second.
The shutter in a camera controls how long the camera takes to take a picture, but faster doesn't mean better. The faster that a camera shutter opens and closes, the more likely that you will get a clear, blur-free image. The longer that the shutter is open, the more light you let in and the better your image will be in low light. Shutters that are open for an extremely long time allow you to take color pictures at night/twilight without having to switch to infrared mode, but can result in motion blur.
There's no one-size fits all approach to shutter speed, so we give you full control (and free tech support) to set it up the best way possible.
3. To be Commercial Grade, the Surveillance System Must use Open Standards so that it can Work With Other Devices / Services:
---

ONVIF Conformant
Consumer grade cameras are often proprietary - forcing you to use their services and not allowing you to use anything else. This may leave you in a scenario where you cannot record your footage without paying a monthly fee or not be able to use third party software like analytics devices or integration with other devices like access control or POS systems.
ONVIF is an open industry standard encoding language for the interface of IP-based physical security products. (It's what allows your IP camera, your NVR, or any other device to talk with each other.) A commercial grade security camera or NVR must have ONVIF compliance, so that you can integrate it with other services.
---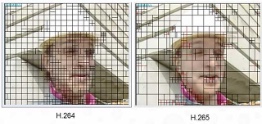 Both H.265 and H.264 Recording Modes
A commercial grade application that has dozens to thousands of cameras has to move a lot of data.
H.265, also known as High Efficiency Video Coding (HEVC) or MPEG-H Part 2, is the video compression standard which replaces H.264. HEVC was a collaboration by many parties including Apple, Microsoft, CIsco, Dolby, and the Moving Picture Experts Group. In comparison to H.264, H.265 offers about double the data compression ratio at the same level of video quality, which means both substantially improved video quality at the same bitrate and lower storage requirements.
H.265 saves hard drive space and increases the quality of an image by splitting the screen into a grid and only updating the sections that changed from the previous frame. This focuses nearly all of the processing power of the camera on the areas of the screen with activity. The image quality differences of H.265 is most noticeable in situations such as attempting to watch your camera remotely if your internet upload speed is slow.
A commercial grade application also needs to be able to work with third party services such as POS integrations, machine learning based computer vision services, and access control integrations.
You can also record in H.264 if you need backwards compatibility for a POS or Access Control integration that doesn't yet support H.265. Also all machine learning based computer vision applications run faster at H.264 compression, so you may wish use H.264 instead of H.265 to get faster alerts if you are using one of these services.
4. To be Commercial Grade, a Security Camera System has Sufficient Processing Power to take those Beautiful Images and Convert Them into Video:
---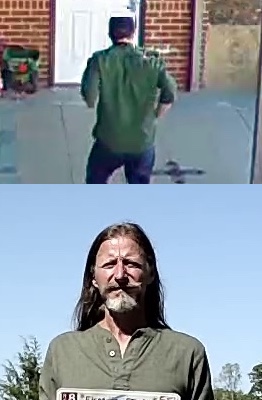 Sufficient Bitrate (processing power) to Record Smooth Video
Most people think that video consists of a resolution and a frame rate - and if a camera has the same resolution and bitrate as another, then they are the same. This is incomplete and inaccurate.
A surveillance camera also needs to be able to update all sections of the video at once. Many consumer grade devices, lack sufficient processing power to be able to update the full frame at each refresh - resulting in images with heads cut off or choppy edges, like the one to the left. Our guide on IP Camera bitrate lets you understand why this is and what bitrate you need for different resolution / frame rate combos.
---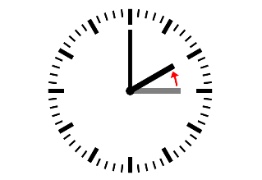 No Recording Delay; See What Happened before Motion was Detected
Many consumer grade cameras uses PIR sensors to trigger a camera to turn on when something gets close enough to the sensor. This is bad design as there's a slight delay (0.5-3 seconds) that can cause the camera to not record what happened. Our cameras not only don't have a recording delay but allows you to record up to 30 seconds before the motion.
Don't miss out on important motion events: go back in time, before the event, to understand why it happened.
P.S. the image in the bitrate section above shows the back of the subjects head rather than the front, because it didn't turn on until the subject was leaving.
5. To be Commercial Grade, the Surveillance System Must Be Easy to Install and Maintain:
---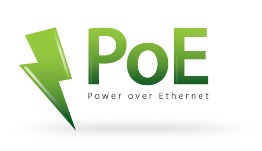 POE (Power over Ethernet)
POE allows a Cat5 cable to both carry data and power, making it so that you only have to run one cable. You will need either a POE injector, a POE Switch or one of our POE NVRs to power a camera via ethernet.
**There is an optional wall plug adapter on most of our camera models. This wall plug adapter is only used by clients who cannot run POE cables, such as some solar installations or some nautical installations.
---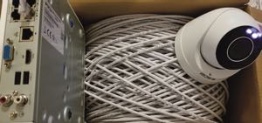 Extended Transmission: 750 Foot POE
Our commercial grade ip cameras have extended transmission, which allows it to plug and play SCW Cameras with SCW POE NVRs or POE Switches up to 750 feet away!
Normally, ethernet cable has a limit of ~300 feet. After that you start getting data packet collision (your video data gets all mixed up and hard to figure out the order of the data). With this SCW Admiral NVR and any of the SCW Admiral Line Cameras, you can extend that distance up to 750 feet. This feature requires both our cameras and NVR to work together.
When plugging a camera into a normal POE switch or POE injector, the normal ~300 foot limits will still apply. Extended Transmission is only availible on SCW NVRs and some SCW POE Switches.
---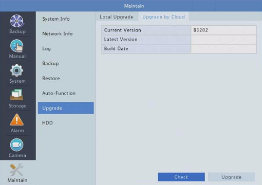 1 Click Firmware Update
Maintaining a fleet of cameras can be tiresome and time consuming. Tired of chasing down firmware from the manufacturer, downloading the firmware, uploading the firmware to the device, and then restarting the device? Don't bother!
This device checks for firmware and then downloads and installs it, itself, with one click.
---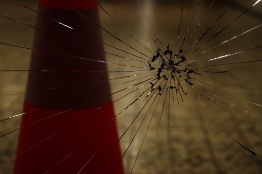 Vandalism Alerts
There are three different VCA alerts aimed at alerting you to camera vandalism.
Video Loss, which happens when a the NVR loses communication with the camera, such as if a cable is cut.
Scene Change, which happens when the camera is pointed in a new direction.
Video Tampering, which happens when the lens is covered.

Discover the Use Cases, Best Practices, and Limitations of Vandalism Detection
---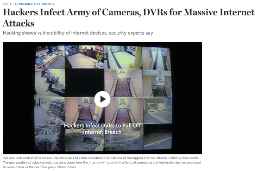 Cyber Security Protections
The sheer number of security cameras present on a network are an attractive target for hackers. SCW NVRs create an isolated subnet (a network within a network) that are not visible or accessible on your computer network. Only the NVR can see the cameras because they run on an isolated network. The only way to access these cameras is to plug a computer into the NVR's POE ports or Lan2 port(s).
This has several advantages:
1. Faster Networks. Unlike traditional NVRs the camera's video feeds do not slow down your main computer network when plugged into NVR' isolated network
2. Invisible Cameras. Your cameras are not visible on your computer network or to outsiders. You can connect to the NVR remotely and log in and the use the NVR as a bridge to watch the cameras, but neither you nor a hacker cannot log into the cameras themselves, without either logging into the NVR or being physically present to plug into the NVR and possessing knowledge about your NVR's specific camera subnet mask. (You can customize this camera's subnet, if you want). 99% of all security camera IOT hacks are through the cameras - not the NVR.
For more information and a history of some of the larger cyber security attacks that have affected the industry, please see our guide on best practices for preventing IOT hacks.
---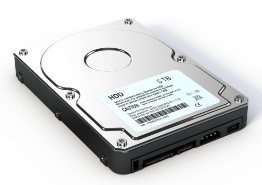 Surveillance Rated Hard Drive
NVRs need Surveillance Rated Hard Drives, as PC drives will overheat and fail.
We use high grade hard drives specifically designed for video surveillance. Surveillance hard drives, unlike PC drives, are built to write significant amounts of data, 24/7, for years on end, without failure.
Our surveillance hard drives come have their own 3 year warranties from major manufacturers like Western Digital or Seagate.
---
Support NAS and Other Backup Methods
Footage created in a commercial grade environment needs to be able to be backed up, periodically. The most common backup method is to a NAS.
A NAS or Network Attached Storage is an easy way to either increase the storage space available to your recorder or have a redundant, off recorder storage device - allowing you to have two copies of recorded footage.
Some SCW NVRs also support many other automatic footage backup options, including RAID, HotSwap, HotSpare, and eSata.
5. To be Commercial Grade, the Surveillance System Can't Be Sanctioned by The US Government:
---
On Oct 7th 2019, The US government placed sanctions on major providers in the industry for human rights abuses. Some or all Honeywell, Hikvision, Dahua, Lorex, Swann, LTS, Annke, Alibi, Laview, WBox, Interlogix, Flir, Bosch, ICRealtime, QSee, Panasonic, ADT, Indigo Vision, Montavue, and many more security products are included. SCW's Admiral and Imperial line equipment is not sanctioned.
These sanctions prevent these companies from using US technology or standards in future software or firmware releases and from using US patents in future hardware models. This means that they are going to face a situation where they either don't update firmware for cyber security concerns or lose ONVIF compliance or features when their firmware is updated. For these reasons, we recommend staying away from these brands.
For more information and full documentation, please see our article on NDAA and US Sanctions of Hikvision, Dahua, and their OEM brands.
What to Expect from SCW as a Commercial Client
---
Nothing beats experience when it comes to securing large institutions. With SCW, you get a provider who has helped thousands of companies, government, and institutions secure their properties.
We're known for our Best-of-the-Best approach to US-Based Customer Service and Technical Support and an Advanced Replacement policy that's easy to keep mission critical security operational.
Experience With Commercial Clients
With thousands of customers like NASA, Lockheed Martin, and Amazon, we know what it takes to secure the world's largest organizations.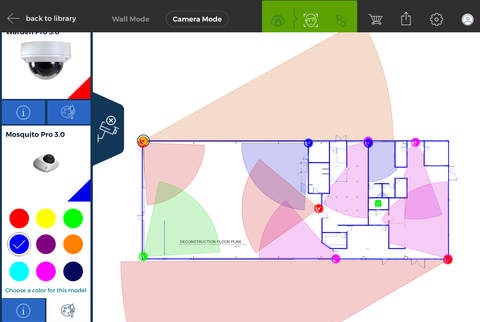 Customized to Your Needs and Location
Our surveillance consultants are happy to create a custom proposal for you.
With our free, no obligation floorplan service we'll help you find the right cameras for you. Just give us a call 866-414-2553 and we'll talk you through it.
Elite Technical Support
While most large organizations have a comprehensive IT team on hand, we provide free lifetime technical support to your IT professionals.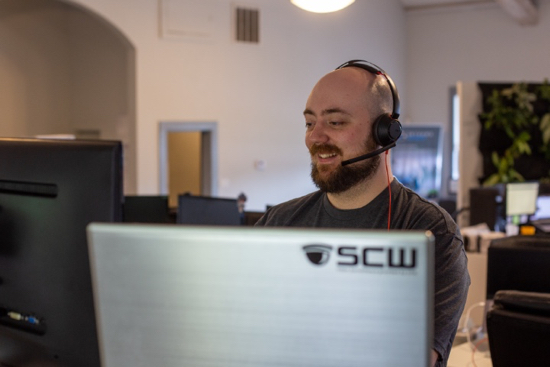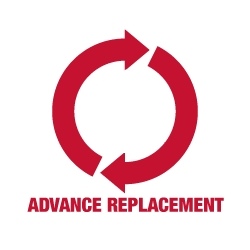 We Care About your Security as Much as You Do
We trust you. That's why our Advance Replacements Policy exists.
if we sent you a defective security camera or NVR (and we can't fix it over the phone) we'll send a replacement out before you send the old one to us for testing, and we'll pay for shipping both ways.
---
Shop for Commercial Grade Security Camera Systems