Establishing a Secure Perimeter: Sample Security System Designs for...
Here at SCW, we have created several sample security floorplans of common scenarios to help you determine what you might need in a surveillance system. You'll find a ton of examples below, but nothing beats the individual attention of one of our people looking over your location.
If you are new to these sort of guides, start here: Guide to Creating a Security Perimeter for "true for everyone" advice.
Then, check out these guides.
If you want some more specific assistance, we're happy to create a custom floorplan just for you.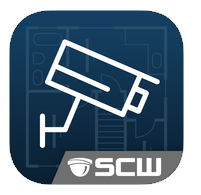 *Free floorplan service includes one revision. It takes around 2 business days for us to create or modify a floorplan.
Here's how a surveillance camera system for a smaller home would look: (assume a house that is less than 50 foot across).
Here's how a surveillance system for the front of a house would look on a house that is moderately sized and has a long (about 100 foot) driveway.
Not all homes are small and simple. In these examples, we will be showing how to design a security system for a home that has more variation in its floorplan.
In these examples, we will be showing how to design a security system for a home that has more variation in its floorplan.
This surveillance system covers the a small corporate location, in this case a clubhouse for an apartment complex, but the principles are the same for nearly any interior space that is meant for office, home, or personal use.
A lot of churches or temples unfortunately are thought of as easy targets for vandalism. Here is a floorplan showing how security camera can keep out unwelcome trespassers.
This surveillance system covers the aisles of a warehouse and the exterior entry points as well as a loading dock - assumes shelving units that you cannot see through.
This surveillance system covers the aisles of a large retail space - in this example a shopping mall - but is applicable for anyone in the retail industry.
These two surveillance system examples covers two different parking garage scenarios: a pay-by-the-hour parking lot with payment kiosks and a parking garage for an apartment complex, with maintenance only areas and an elevator/lobby room.
When it comes to security camera systems, mechanics have a lot to think about including worker productivity, customers wait times for the sales office, and preventing theft or damage to the vehicles.
As a business, you have more to lose than just what a thief can steal. This floor plan layout shows you the best areas to place security cameras, so you can protect your space and revenue.
No longer can educational institutions ignore security issues. An incident can mean negative publicity, decreased enrollment, and expensive lawsuits. In this floorplan you will see how the proper camera placement could benefit your school or institution.
Storage units can be a target for theft. Thieves know this is where tenants store valuable items. This floorplan and explanation can help you decide where the best placement for security cameras would be.
More complicated than you would think, a car wash need to be able to have great footage of all sizes of a car, both before and after it goes through the machine.
Prevent shoplifting, false slip and fall claims, and improve customer service with the right security camera placement. Here is a sample floor plan layout that is covering the important areas of a grocery store.
It is legal to grow Cannabis in several states, however Cannabis farms have stringent regulator requirements for their surveillance systems.
Just Getting Started with Security Cameras?
---
Get the SCW Beginner Guide!
New to security camera systems? Confused by Analog vs IP? Bullet vs Dome? Indoor vs Outdoor? Don't even know what PTZ means?
No problem! Download the SCW Beginner Guide and get all your questions answered right away!
There are no products matching the selection.