Line Crossing (Tripwire) with the Admiral and Imperial NVRs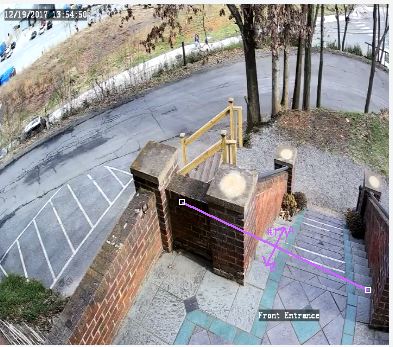 The Line Crossing (Tripwire) Analysis feature allows for a line to be placed in a camera's view that acts as a pass-through notification point. The camera watches a virtual line and can be set to sound an alarm or notify you of any object entering, leaving, or both. Our IP security cameras
Scenarios where you would use Cross Line (Tripwire) Detection Video Analytics
Many property owners have fence around their property, and want to be alerted if someone climbs over. Many business owners need to be notified if anyone walks down a restricted hallway to a stock room, medical supply closet, or sever room. Parking lots and parking garages need to know if a vehicle enters a parking lot using the exit or exits in the wrong direction.
Best Practices when using Line Crossing
As with almost all of our video content analysis detection features, the line crossing detection will not be helpful in an area with constant motion. If a shadows crosses your line or a tree branch blowing in the wind crosses your line, it will cause these feature to alert you. A crowded place is not going to be the best application for this feature.
Although the line crossing setting should appear pretty straight-forward, the more specific the application, the more hands-on the configuration of your lines will be. If you need assistance, any of our techs here at scw can show you how best to get your line crossing detection working the way you want it to.
How to Configure Cross Line Analytics
Login (images are from the webview login, but you can also do so from the NVR itself)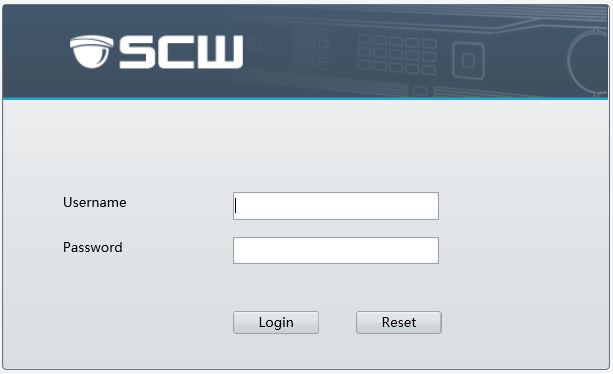 Setup step 1: enable Line Crossing and draw a line.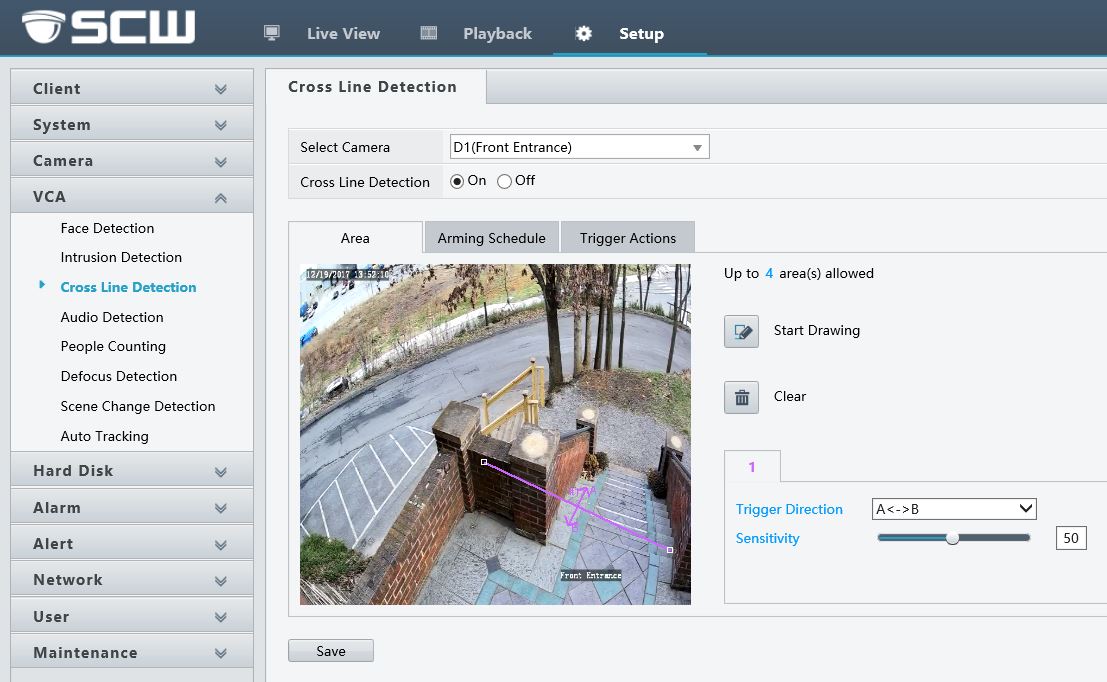 Setup step 2: Define the estimated width of a person (or object if you are tracking cars or products on an assembly line) and the entrance / exit directions of the line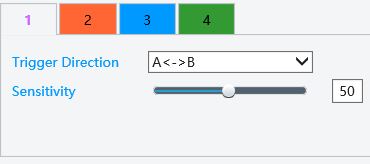 You can configure Line Cross Detection to trigger PTZ preset locations, send signals to your alarm system (on models with alarm inputs/outputs), make the NVR beep, send email alerts, or trigger recording.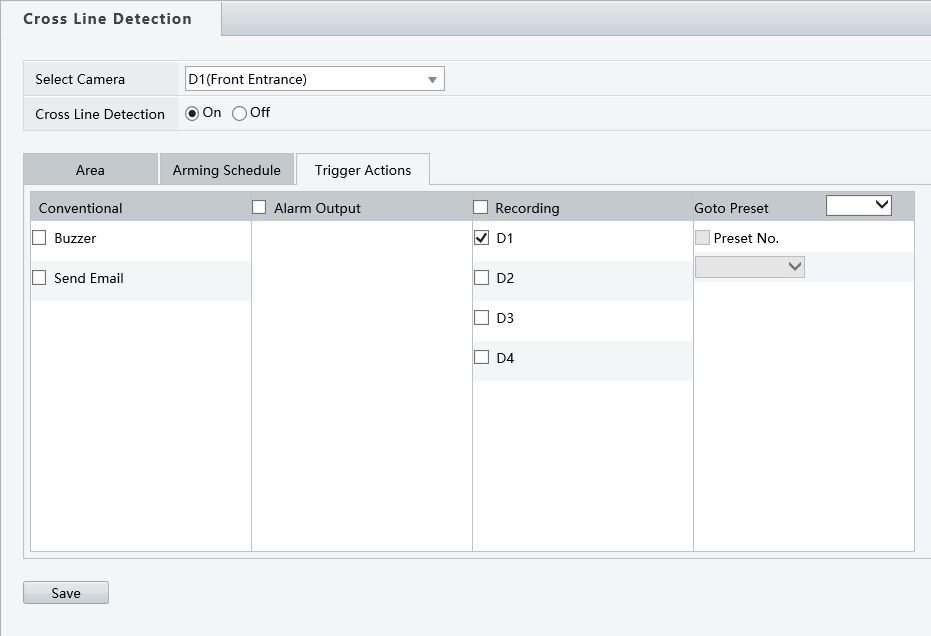 You can use enable Line Crossing Detection on a schedule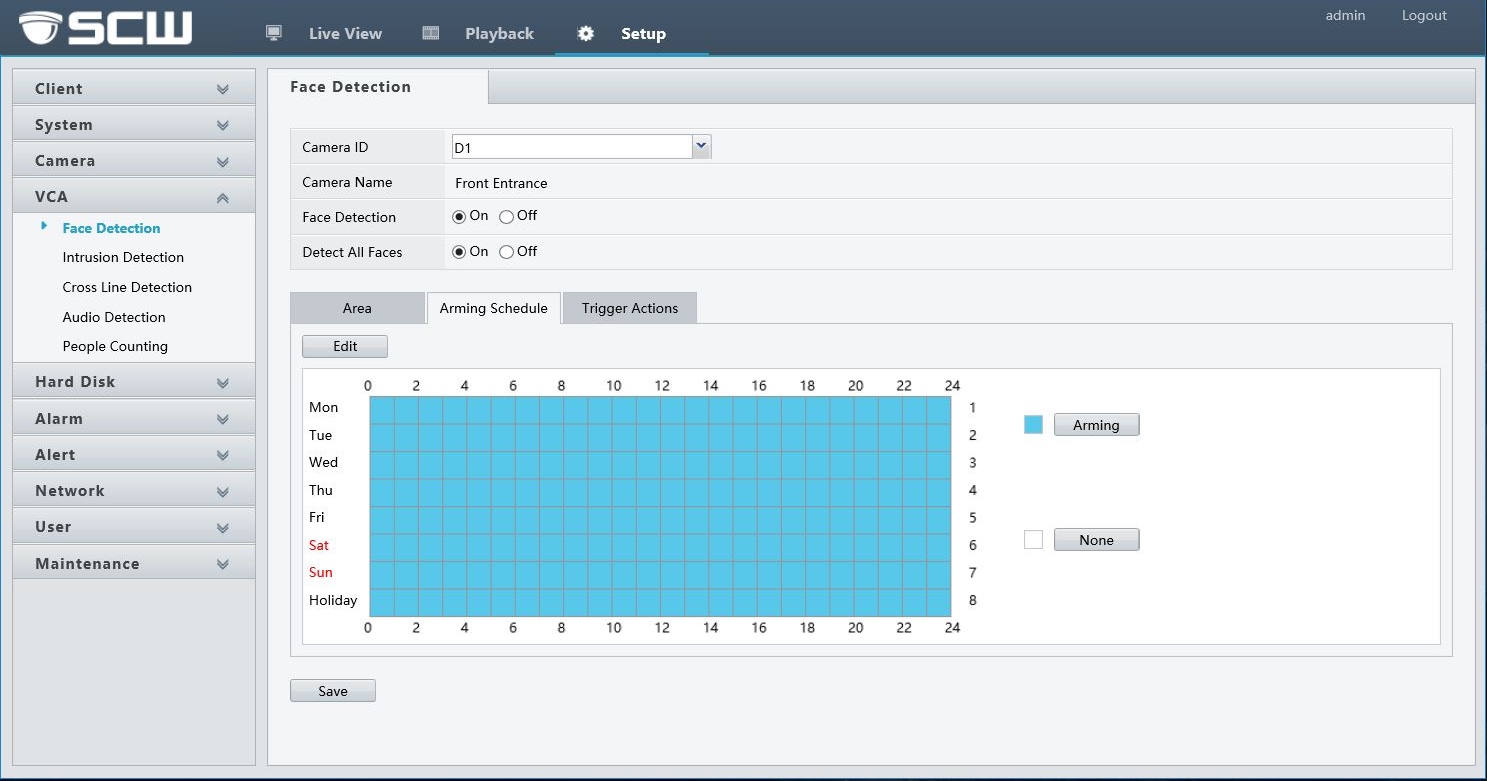 SCW Support is Here to Help
Video Content Analytics features are complex, in their infancy in terms of product development, and are sometimes difficult to set up. The Face Detection feature, in particular, is in Beta; it will sometimes detect what it thinks are eye, nose and mouth shapes in the folds in clothing or in bush/tree leaves. If you want help setting up any of our Admiral NVR Video Analytics Features, you'll find that the tech support team here at SCW is here to help. We can assist you with optimize any of our VCA features to work in the best way possible for your application.
Cross Line Detection is available on these NVRs when combined with specific SCW Admiral Line Cameras verify each camera for individual smart functions, v2 cameras do not support cross line detection.
/ images

Not sure what you need?
Lean on the experts
We'd be happy to work up a custom quote or take your floorplan and create a security coverage map.
Get a Custom Quote