IK10 Vandal Proof Dome Camera
IK10 - The Highest Rating for Physical Damage Protection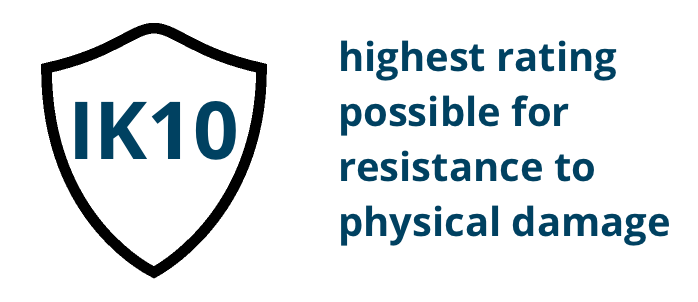 IK10 is the highest measurement rating for protection from physical damage for security camera products using the international standard IEC 62262 scale. IK10 is the highest rating possible and should protect against many human-based forms of destructive vandalism.
Realistic Expectations of IK10 Vandal Proof Protection
Most security camera manufacturers and retailers use an image of a hammer hitting a camera as a way to explain vandal-proof ratings. This can be misleading.
Please don't misunderstand the scale and think that IK10 cameras are indestructible. We're happy to have gotten the highest rating possible, but want to make sure that we're not creating unrealistic expectations.
There's no ability to make a product that can never be damaged, and hitting any security camera with a hammer will almost always damage it. Technically, IK10 means that it has survived a twenty joules impact repeated five times with no damage to function, in a lab, and under normal environmental settings. As a point of reference, a baseball bat swing from a professional MLB player, in a normal horizontal stance, with a wooden bat, causes about a 200 joules impact on the ball. A metal bat or metal hammer has the ability to transfer even more energy if the contact area is smaller.
Although our camera has the highest rating possible, the IK10 standard isn't really as high as these "IK10 hammer" images make them appear. IK10 cameras are not bomb-proof, or bullet-proof, or hammer-proof. No matter what other companies put on their images, if you hit their products or ours (or really anything made of glass) with a hammer or baseball bat, you probably are going to break the glass and get hurt.
Because it is the glass itself that is rated IK10, the IK10 Vandal-proof security cameras are obviously available on full glass dome security cameras only.
Our vandal-proof dome cameras have IK10 rated glass. This glass is also not usually available on bullet or turret cameras, which have anti-reflection glass instead.
Cameras like our Sheriff or Judge have IK10 protection. Cameras with IK10 glass are usually installed at locations like college campuses where vandalism is common.
Our entire range of bullet and turret style cameras have anti-reflection glass. Anti-Reflection glass is not available as curved glass like the traditional vandal-proof dome cameras. Unless you expect a large amount of vandalism, Anti-reflection glass is the better choice, as it will give a much better image at night. IK10 glass can have infrared light bounce-back into the lens.
/ images

Not sure what you need?
Lean on the experts
We'd be happy to work up a custom quote or take your floorplan and create a security coverage map.
Get a Custom Quote