Custom Security Camera Systems
Talk with an expert:
828-373-6865
Our staff is available from 9-6 Monday - Friday (EST).
How to Customize A SCW Security Camera System Bundle Online:
Most security camera systems are sold as one-size-fits-all bundles. At SCW you can customize our systems to your exact needs.
Hard Drive and Bracket Customization
When you go to add this system to your cart, it will ask you to choose a hard drive size and present you with optional mounting brackets.
You can choose the hard drive size in your system. Hard Drives are installed the same day your order ships by our shipping team in North Carolina. Most homeowners look to keep around 3-14 days of footage on hand, while businesses tend to keep 14-90 days. To calculate the storage requirement for a custom timeframe, check out our NVR record time calculator.
Brackets for the cameras in our security camera systems are optional. We recommend adding the electrical box mounts if you are mounting the camera outdoors as they give easy access to your connections, hide them inside the junction box, and allow you to drill a smaller hole in your wall (which means lower heating/cooling bills). The electrical box mounts are only necessary if you want to run conduit.
Full Security Camera and NVR Customization:
Our systems are designed to get you some ideas as to what you might need, not to be a one-size fits all solution for everyone. Most of our customers modify these premade systems with one or more specialty cameras. For example, you may have a gate farther away from your property that may require a specialty long-range camera like our Archer or Sharpshooter models. You may have a highly important area where you might want to install our Knight model with its integrated motion light. You may want to include one of our PTZ cameras that you can move around with our apps.
A slight majority of our clients end up buying the cable locally, for four reasons: (1) You can start your installation immediately and have the cable run by the time your cameras are delivered! (2) Because the cable is heavy and cheap to make, you can often buy it locally for cheaper than we can ship it to you. (3) If you are installing the cameras outdoors, you should follow our RJ45 Waterproofing guide for weatherizing your cable connections, and this means cutting the end off. (4) You want to avoid excess cable laying around because many rodents see coiled cables as an excellent place to make a nest. Many large home improvement stores will usually help you cut your cable to exact lengths and will usually even work with you regarding weatherizing the connectors.

When on the cart page, click the red "x" to remove an item you don't want.

Type in the quantity box and then press "update" to change quantities.

You'll be asked about product options, like camera brackets or the NVR's hard drive size, when you add any of our systems, NVRs, or cameras to the cart. If you change your mind, you can press the edit button on the cart page to change these options.
Additional Resources to Help you with Security Camera System Customization:
What to Expect from SCW:
---
Nothing beats experience when it comes to custom work.
We're known for our Best-of-the-Best approach to US-Based Customer Service and Technical Support and an Advanced Replacement policy that's easy to keep mission-critical security operational.
Our Experience Customizing Surveillance Systems
With thousands of customers like NASA, Lockheed Martin, and Amazon, we know what it takes to secure the world's largest organizations.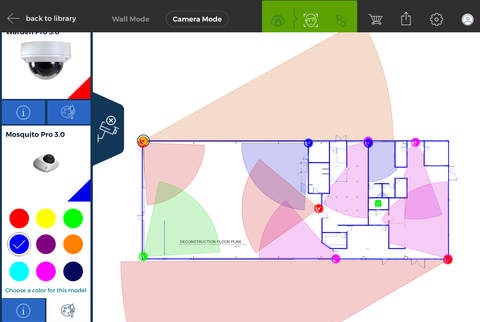 Free Floorplan Assessment
Our surveillance consultants are happy to create a custom proposal for you.
With our free, no obligation floor plan service we'll help you find the right cameras for you. Just give us a call at 866-414-2553 and we'll talk you through it.
If you want some more specific assistance, we're happy to create a custom floor plan just for you.
---
Shop for Security Camera Systems and Cameras