The Admiral Standard 16 v3
16 Channel 4K PoE NVR
Usually ships the same business day if ordered before 2PM EST.
The Admiral 16 v3 is an NVR that records live in 4K, 1080P, or 4MP with 320 Mbps incoming bitrate.

Need Installation?
No Problem
Whether you plan to DIY install or want us to do it for you, we're as flexible as you need.
Get a Custom Quote for Equipment or Installation
The Admiral 16 v3 is an NVR that records live in 4K, 1080P, or 4MP with a huge 320Mbps incoming bitrate.
Since The Admiral 16 Channel 4K NVR v3 - ADM16P16-V3R and The Admiral Pro 16 Channel 4K NVR v2 - ADMP16P16-v2m are very similar products, here's a quick guide on how they differ.
The Admiral Standard 16 Channel
2 hard drive bays
1/4 the alarm inputs
Can only be rack-mounted by purchasing separate rack mount ears
The Admiral Pro 16 Channel
4 hard drive bays
Twice the alarm inputs
Comes with rack mount hardware.
---
Recording
---
16 1080P cameras at 30 FPS
16 4MP cameras at 30 FPS
16 4K cameras at 30 FPS
320 Mbps incoming bitrate; 20 Mbps per channel
H.265 encoding
---
Software
---
VCA: Motion Detection, Line Crossing, Face Detection, Intrusion Detection, People Counting, Vandalism Detection
Video Content Analytics (VCA) Search
VCA Event based Email Alerts
Remote Footage Download
Redundant NAS Support
1 Click Firmware Update
---
Decoding
---
2 x 4K, 5 x 4MP, 10 x 1080P
Smartphone Apps
Tablet Apps
Windows Apps
Mac Viewing Apps
Chrome, Edge, Firefox Support (Windows)
---
Hardware
---
NDAA Compliant CPU
2 hard drive bays
Rack Mount Ears Optional
Cat5e (RJ45) Ethernet to Network
Standard 3-Prong Wall Plug
16 SCWEasyConnect ports on back for Plug and Play SCW camera auto-configuration
4K HDMI Out for TVs/Monitors
Independent 1080p VGA Monitor Output
Footage Download via USB
---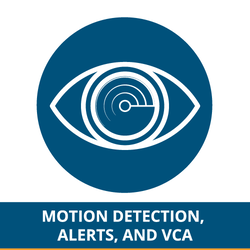 Motion Detection, Alerts, and VCA
This Admiral NVR is a motion detection NVR. Feel free to read more about these features by clicking on the link, but here's a quick synopsis:
Alerts and Notifications:
Get email alerts of motion detection alerts or VCA events
Set a schedule to get emails only on the hours of the day you want.
Get Push Notifications to the SCW Go Application for Android and iPhone.
Recording:
Create your own customizable record schedule, including recording based on the day of the week, hours of the day, or even choose not to record for periods of time. Set constant recording during business hours and only motion during closed hours.
Motion, VCA, or 24/7 Recording - Record based on motion detection, VCA (video content analysis), or set the system to record 24/7. You can even record based on alarm inputs!
Motion Detection You Can Use in Court - If your system is set to record based on motion or VCA events, you can have a 60 second pre-event buffer to grab footage prior to the detection. You can also set the system to record up to 10 minutes after an incident is detected. Motion detection footage does not "time out" and stop recording mid scene. Motion Clips cannot be deleted by employees or other users.
Customizable Motion Detection Recording through VCA events:
VCA features vary by camera model, and can include:
Intrusion Detection - Monitor areas with precision, define zones, set time thresholds, and sensitivity.
Line Crossing - Create virtual lines to detect people or objects crossing doors, entrances, and more.
People Counting - Determine how many people are entering and exiting. Keep and review daily logs.
Audio Detection - Listens for Rises or falls in volume, and sudden loud noises.
Vandal Detection - Get alerts based on tampering detection, defocusing, or any dramatic scene changes.
Analysis:
Smart Search - Quickly review footage by filtering by motion detected in specific areas of the screen, by the face captured, by intrusion into certain areas, or by line crossing
People Counting Statistics - view traffic stats on your NVR or download a CSV file
---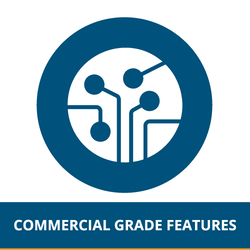 Commercial Grade Features
This Admiral 16 Channel NVR is part of our commercial grade NVR line. Feel free to read more about these features and what commercial grade means to us, but here's a quick synopsis, as to how it relates to NVRs:
Surveillance Rated Hard Drive - NVRs need Surveillance Rated Hard Drives, as PC drives will overheat and fail.
Store 40% more data with H.265 video compression or switch back to H.264, if you need H.264 third-party integration support.
Passes vibration and surge testing up to 6,0000 volts - SCW NVRs can withstand vibration and surges up to 6,000 volts.
Cyber Security Protections - hackers can't easily see SCW cameras because they run on a special, isolated network created by the NVR. (For more information and a history of some of the larger cyber security attacks that have affected the industry, please see our guide on best practices for preventing IOT hacks.)
4K at 30 FPS Capable - Sufficient Bitrate (processing power) to Record Smooth Video
Easy 1 Click Firmware Update Process - Maintenance made easy.
750 Foot POE Extended Transmission: the old 300 foot limitations are a thing of the past.
No Recording Delay - Even when recording on motion.
ONVIF compliant - this NVR complies with the open industry standard ONVIF for both Profile S (video & audio streaming) and Profile Q POE ports (you can plug-and-play with other Profile Q compliant cameras).
---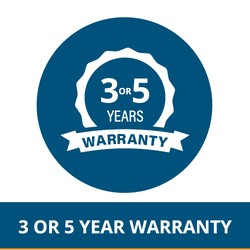 3 or 5 Year Warranty
The Admiral 16 Channel NVR comes with a 3 year warranty. This warranty can also be upgraded to a 5 years. We recommend doing so for commercial clients.
---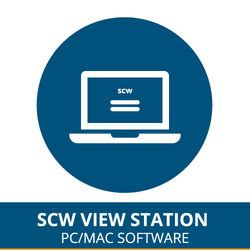 SCW view station PC/Mac Software
Our Windows/Mac application is a full featured, easy to use, desktop video management software. You can combine multiple Admiral or Imperial systems, even at multiple locations and seamlessly view, control, and manage them as if they were one system. Just about anything you can do on your NVR you can do on our free SCW ViewStation.
SCW View Station is both Mac and PC compatible and is 100% free.
---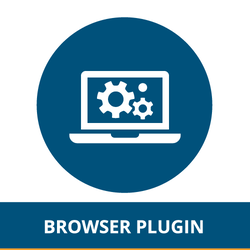 Browser Plugin
Although you can edit most settings and live stream a camera feed in any of the major browsers, to take full advantage of our software features you will need to install our browser plugin or viewstation software.
Our browser plugin supports Chrome, Edge, and Firefox (in Windows).
---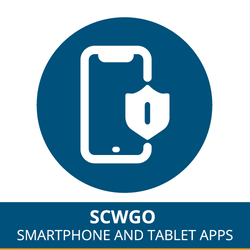 SCWGo Smartphone and Tablet Apps
SCWGo is availible for both Android and iPhone/iPad.
You download these apps from your phone's app store. Just look for the SCWGo app.
---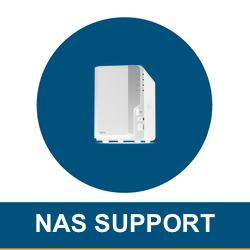 Redundant NAS Support
NAS supports allows you to add an NFS compatible NAS to your NVR for redundant recording. This NAS will record in real time with your NVR to help limit the lost footage in the event of hard drive failure. SCW offers a 2 bay NAS and a 4 bay NAS option.

To learn more about setting up a NAS and functionality check out our guide.
---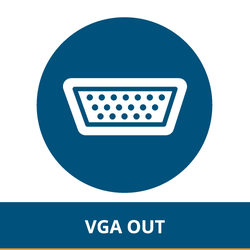 VGA Out
This recording device has VGA Out.
You can plug this recording device into any VGA enabled monitor.
Q: Do I have to use a monitor?
A. No, you can use either a monitor or a TV, as explained below. But, you don't actually have to use either. You can manage nearly all your settings remotely via our PC or Mac apps or via the web-interface. Quite a few of our customers hide their recorders or put them in a safe with a cable pass-through, to prevent them from potential theft. This is a perfectly fine solution. You will probably want to plug a monitor in to make your initial setup easier.
---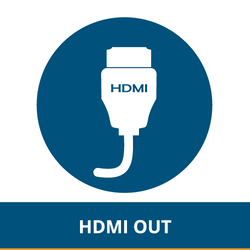 HDMI Out
This recording device has HDMI Out.
You can plug this recording device into any HDMI enabled television. This means that you don't need to purchase a monitor unless you want to; you can connect a monitor with either HDMI or VGA cable.
Q: What if I plug in both the HDMI and VGA? Can I watch on two screens?
A. On the 4,8, and 16 channel Admiral units the HDMI and VGA will display the same output.
Please note that although our NVRs can all do 1080P and 4K output, all of them ship with 720P as the default. This is to prevent display issues for people who have older TVs or monitors that don't support 1080P or 4K. To change the output right click and then go to configuration.
American-Based Technical Support after the sale. For FREE. Forever.
Real review from Fransisco, who had this to say:
The most important part of a purchase like this is the support for technical assistance when there is a question or when there is a problem, and they always exceed expectations!
All of our equipment comes with Free Technical Support that is US based (Our Warehouse and Staff are located in Asheville, NC). We're happy to help you via chat, email, screenshare / remote support sessions, and phones. Our number is 866-414-2553 and we're open from 9-7 M-F (EST).

---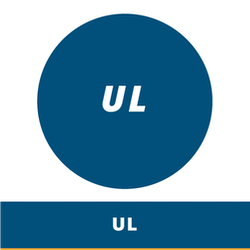 UL Listed and FCC Certified
This product is UL Listed and FCC certified
UL is a safety consulting and certification company headquartered in Northbrook, Illinois and provides safety-related certification, validation, testing, inspection, and auditing of SCW products.
The Federal Communications Commission has certified that the electromagnetic interference from the device is under limits approved by the FCC.
---
Not Sanctioned. On Oct 7th 2019, The US government placed sanctions on major providers in the industry for human rights abuses. Some or all Honeywell, Hikvision, Dahua, Lorex, Swann, LTS, Annke, Alibi, Laview, WBox, Interlogix, Flir, Bosch, ICRealtime, QSee, Panasonic, ADT, Indigo Vision, Montavue, and many more security products are included. SCW's Admiral and Imperial line equipment is not sanctioned.
These sanctions prevent these companies from using US technology or standards in future software or firmware releases and from using US patents in future hardware models. This means that they are going to face a situation where they either don't update firmware for cyber security concerns or lose ONVIF compliance or features when their firmware is updated. For these reasons, we recommend staying away from these brands.
For more information and full documentation, please see our article on NDAA and US Sanctions of Hikvision, Dahua, and their OEM brands.
The Admiral 16 Channel NVR - ADM16P16-V3R Specs
System

ADM16P16-V3R

Operating System

Embedded Linux

Processor Manufacturer

NDAA Compliant Rockchip

ONVIF Conformance

Profile S, Profile G, Profile C, Profile Q, Profile A, Profile T

Max Remote Connections Total

Up to 128
| | |
| --- | --- |
| Video & Audio Inputs | ADM16P16-V3R |
| Video Compression | H.265 / H.264 |
| Video Input | 16-Ch |
| Two-way Audio Input | 1-ch, RCA |
Video /Audio Output

ADM16P16

HDMI & VGA Output - Independent Output

HDMI:
4K(3840x2160)/30Hz, 1920x1080p/60Hz, 1920x1080p/50Hz, 1600x1200/60Hz, 1280x1024/60Hz, 1280x720/60Hz, 1024x768/60Hz

VGA:
1920x1080p/60Hz, 1920x1080p/50Hz, 1600x1200/60Hz, 1280x1024/60Hz, 1280x720/60Hz, 1024x768/60Hz

Decoding Capability

2 x 4K@30, 5 x 4MP@30, 8 x 1080P@30k 16 x 720p@30PS

Video Bit Rate

32 Kbps ~ 16,384 Kbps, or user defined (Max. 16,384 Kbps)

Total Processor Bitrate

320Mbps incoming / 320Mbps outgoing

NAS Support

Supports NFS NAS and supports redundant recording.

Audio Output

1-ch, RCA

Dual-Stream

Supported | (Sub-stream at D1 30fps)

Stream Type

Video, Video & Audio

Playback Speed

Up to 128x (From Local Display); up to 16x from webview (depends on your internet upload and download speed)

Local Fisheye Decoding

Supported
| | |
| --- | --- |
| Hard Disk | ADM16P16-V3R |
| SATA | 2 SATA Interface |
| Capacity | Up to 14TB capacity for each disk |
| | |
| --- | --- |
| External Interface | ADM16P16-V3R |
| Network Interface | 1 RJ-45 10 / 100 / 1000 Mbps self-adaptive Ethernet interface |
| Serial Interface | None |
| USB interface | Front panel: 1 x USB2.0, Rear panel: 1 x USB3.0 |
| Alarm Input/Output | 8 in / 2 Out |
General

ADM16P16-V3R

Power Supply

100 ~ 240 V AC

Noise Level (dB)

~50dB at fan level

NVR Consumption

Power Consumption: ≤ 15 W( without HDD )

PoE Budget

Max 30W for single port
Max 240W in total ( 15W for each )

Extended Transmission

Supported (cameras must support function as well) up to 750FT

Working Temperature

14°F - 131&deg

Working Humidity

Humidity ≤ 90% RH(non-condensing)

Dimensions

15" × 12.4" ×2.1"

Weight

5.74lbs (No HD)
Most popular downloads related to The Admiral 16 Channel NVR v3 - ADM16P16-V3R

A one page PDF listing this product's most important specs.

It is very, very important that you always bench test IP cameras before installing them. This will help you determine if you accidentally cut an ethernet cable during installation.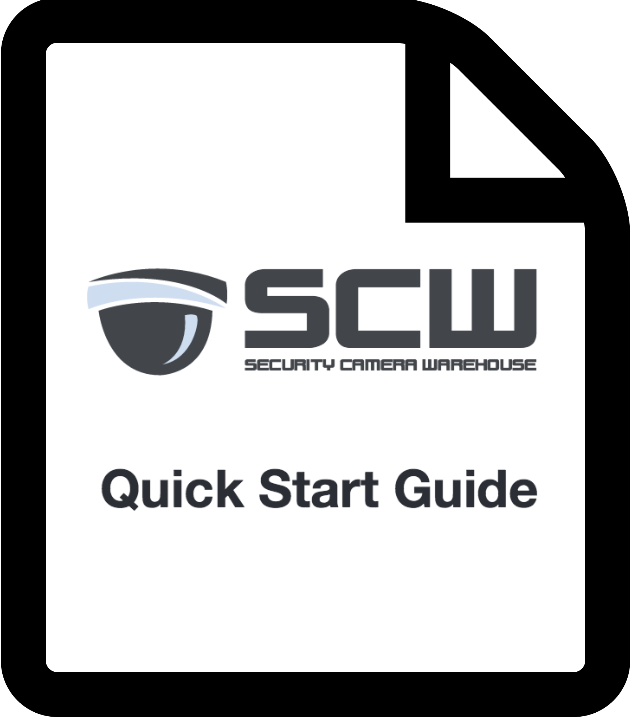 You should get one of these in your shipment when you order, but sometimes it is nice to have a digital version.

You should get one of these in your shipment when you order, but sometimes it is nice to have a digital version.

Please see our support portal for a full list of all technical bulletins, user manuals, and software.
NVR Mounting Options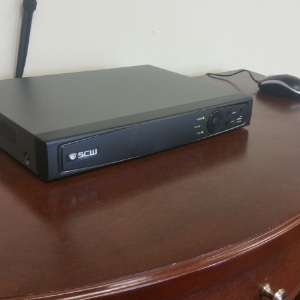 Shelf / Desk Mounting NVRs
This is what most people do: just put it on a shelf or desk. This makes it easy to connect to a TV/monitor and use the mouse (included) to control the NVR.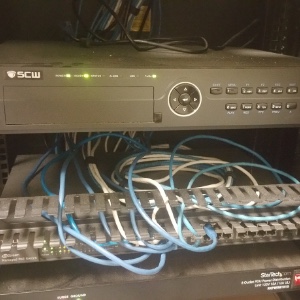 Rack Mounting NVRs
Companies often want to put the NVR in their server rack room. People who do this often to control the NVR only through our apps or web browser. Most of our NVRs (8 channels and up) are wide enough to be rack mounted in a standard 19" server rack. We carry two options: the 9U Rack Mount Cabinet and the 12U Rack Mount Cabinet.
Our smaller NVRs can use our Cantilever Rack Mount Shelf.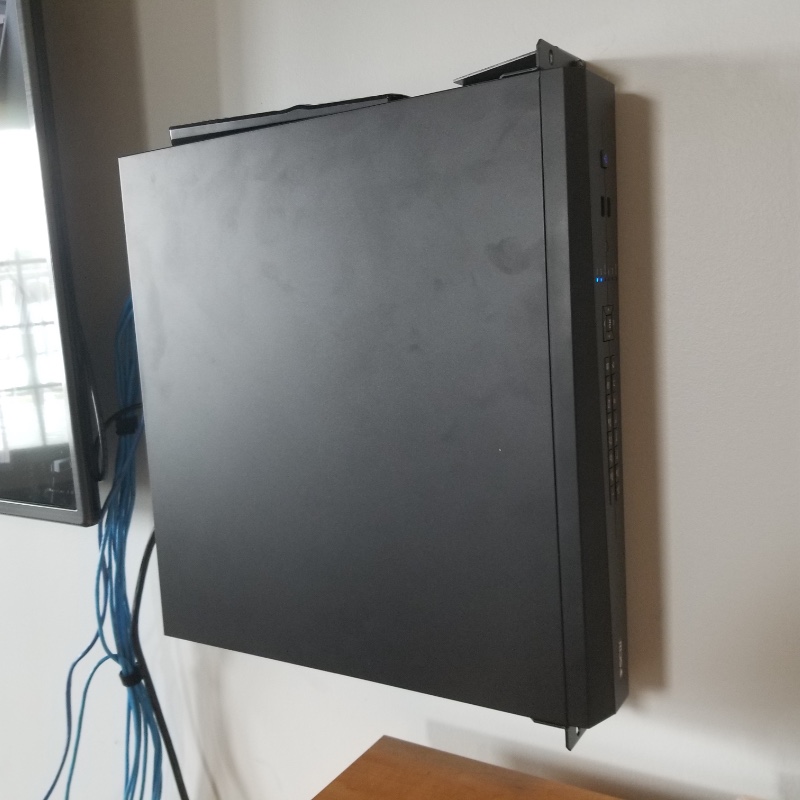 Wall Mounting NVRs
Many people choose to mount their NVR vertically on a wall near a TV. To do this for the Admiral 8, 16 (standard), or Corporal models, you will want to purchase a 1U Vertical Wall Mount Rack that matches the height of your NVR. You will also need to purchase the 1U Rack Mount Ears for these models.
The Admiral Pro 16, 32, and Imperial 32, 64 channel units have a height of 2U, and can be wall mounted with the 2U Vertical Wall Mount Rack. The 2U Rack Mount Ears are included with these models, but additional pairs may be purchased here.
The Imperial 128 channel is 3U. NVRs are heavy and you will want to make sure your wall can support the weight.
Our 4 channel NVRs cannot be wall rack mounted.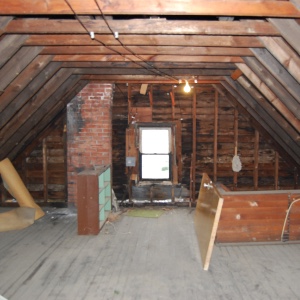 Mounting NVRs behind a Wall / in an Attic
People who are afraid of the theft of an NVR often place it behind a false wall or in an attic. People who do this control the NVR only through our apps or web browser. Be aware: Not all attics are insulated well enough to be within the temperature requirements of the NVR. Temperature range is listed on each NVR's technical specs tab.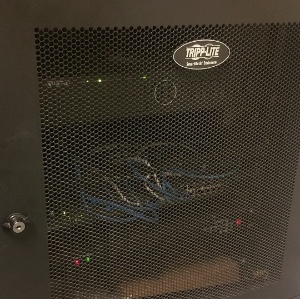 "NVR" Lock Boxes
There's a few companies advertising "NVR Lock Boxes," but any Server Rack or Computer Rack will do. Most Server Racks or Mounts have locks on them already. This picture is of a Tripp Lite Server Rack with Lock It houses a 32 channel NVR, two of our POE Switches, and a router, but there are tons of companies selling small server racks online.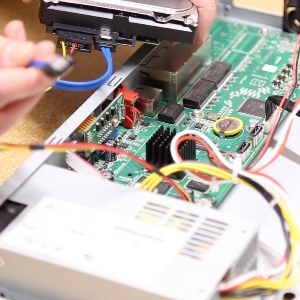 If you purchase both a hard drive(s) and recorder from us, we will happily install the hard drive for you. but here's a handy guide if you want to do it yourself.
/ images