How to Secure your Place of Worship
---
Security Cameras and Alarms for Churches, Synagogues, and Temples
Use this piece hand-in-hand with our Beginner's Guide for Securing Your Perimeter. It provides an excellent foundation and will help you think about the basics before you focus on the specific needs to your church, synagogue or temple.
Your place of worship is a safe haven for your community. It's a sanctuary filled with warmth and wisdom, and it's your duty to supply security and support in return.
Protecting a church, synagogue, temple, and the like can seem daunting and invasive. You want to protect attendees without raising cause for alarm. You want them to feel sheltered without being aware of what could go wrong. Even now, you might not be entirely sure of what exactly threatens your place or worship.
That's where SCW comes in.
Your Place of Worship Isn't As Safe As It Could Be
Any building — commercial, communal, industrial, or residential — faces its own unique set of threats. Before a person can act, they need to be aware. We're here to break down the potential threats to your place of worship and how exactly you would best be able to handle them.
These are your top threats:
Criminal Activity
Active Shooters
Child Abuse
Unpredictable Visitors
Fire/Water Damage
How We Handle Your Threats
Each threat to your place of worship is unique and requires a custom setup and a comprehensive plan. Below, we've laid out why you should be aware of each threat, what solutions we recommend for it, and how to best put your solutions into action.
How to Handle Criminal Activity
Given its selective windows of usage, your place of worship is often surrounded by a vacant, unmonitored parking lot, which tends to attract unwanted lurkers at night. This could range from prostitution to illegal drug sales.
Meanwhile, your place of worship's operational hours is unlikely scandal-free as well. Since an individual's personal time of attending a service is typically a routinely timed activity, it can prove easy for the theft of personal belongings from a car or an instance where a stalker may choose to confront their respective target.
What You Need
Installing Long-Range Bullet Cameras or PTZ Cameras that overlap just enough in their respective angle creates a triangulation of coverage, allowing you to capture what is happening across your parking lot. Each parking lot shaped and sized differently, so it's by no means a one-size-fits-all approach. So we've done the leg work for you and put together a guide that details the various layouts of outdoor parking lots and indoor parking garages .
How to Handle Active Shooters
Even though your place of worship is a dedicated space of communal peace, news cycles have unfortunately proved they can be a target for violence. Attending a religious or spiritual service is a time of focus, which admittedly puts everyone inside at risk.
What You Need
Wide-Angle Turret Dome Camera: The Deputy 4.0, The Deputy 8.0
At each entrance of your place of worship, a Wide-Angle Turret Dome Camera can make a world of difference. You'll need to prioritize where you install cameras otherwise — fellowship hall, main office, sanctuary, and such — depending on the size of your place of worship's facility and campus.
Ensure your place of worship is further locked down by providing each employee or regular volunteer with a unique Pin Pad code for your alarm system in order to better track who's coming and going. Additionally, installing an Open/Close Door Sensor on each of your doors and a Glass-Break Sensor on each of your large windows and sliding glass doors gives you instant awareness when something goes wrong.
How to Handle Child Safety
Given that places of worship can include classrooms and playgrounds, the safety of younger attendees must be prioritized. Children in your care need to be protected from getting lost or leaving with an unauthorized adult.
Being proactive about protecting the children you serve ensures that your place of worship and the surrounding community is safeguarded from liability and bad press as well. Your place of worship must be able to prove that the children in your care were not mistreated, neglected, or abused.
What You Need
By placing a wide-angle turret dome camera or a Panoramic 360-Degree Camera in each room that children may potentially find themselves alone with adult staff or volunteers, you're able to cover every angle and track the going-ons of your facility and campus. Keep in mind that if your place of worship has a hallway longer than 50 feet, you'll need two cameras for it.
Some of your rooms will inherently be off-limits. Our team does not place cameras in any area dedicated to nursing mothers, just as we do not install cameras in bathrooms or changing stations, as it's illegal to set a video-recording device in an area where people may disrobe. We can instead place a camera in the hallway just outside a nursing mothers' area, so that you can make sure no child wanders off by themselves or is taken by a stranger.
How to Handle Unpredictable Visitors
As your place of worship is a refuge with a mission for many, that can sometimes mean you're dealing with individuals suffering from addiction and/or mental illness. It might not be uncommon for your place of worship to be frequented by people expressing unpredictable behavior. It's best to keep track of things, just in case.
What You Need
Even with the best intentions, it's a good call to have a robust security system. If your facility is used for addiction recovery group meetings or troubled counseling services, it's worthwhile to place a Security Camera in any relevant rooms.
By law, you will need to provide a warning sign that indicates audio recording is taking place, per federal and state wiretapping laws. Likewise, if you would like to record audio in a room utilized for recovery meetings or counseling sessions, we suggest obtaining a release form to record audio.
How to Handle Fire/Water Damage
Given the myriad of people and activities going on at your place of worship, there is a sizable opportunity for things to go wrong, even with the best of intentions. From large kitchens to multiple restrooms, there is a risk of an accidental fire, a gas leak, or water damage.
Internal threats are just as dangerous as, if not more than, external ones, since issues can go unnoticed until it's disastrously too late. People are always utilizing different areas and amenities of the common spaces of your facility and campus, and basic human error is by definition unsolvable. So, whether that means someone leaves an oven on or forgets to turn off the water, the people looking to help out most can, in fact, lead to the most costly and unexpected maintenance bills and catastrophic situations.
What You Need
3-in-1 Sensor for Smoke, Fire, and Temperature
By going with our Shield Alarm, one that features sensors on the lookout for environmental risks, you're preventing emergencies before you have to handle them. Shield's Smart Monitoring instantly sends the proper signal for the right help to arrive, whether that be an ambulance, a fire truck, or a police car.
Likewise, our 3-in-1 Sensor for Smoke, Fire, and Temperature alerts the fire department (and you) when smoke is detected, when an abrupt change in temperature has occurred, and when the temperature has exceeded a set threshold. Meanwhile, the Shield Alarm's Freeze/Leak Detector notifies you when there's excessive water or a temperature that is low enough to burst a pipe.
An In-Depth Look at your Place of Worship's Security Solutions
Comprehensively protecting your place of worship is no easy task. It takes the right tech with the proper know-how. We've got you covered.
Security Camera Coverage Maps for Churches, Synagogues, and Temples
Sample Mid Sized Church Security Camera Design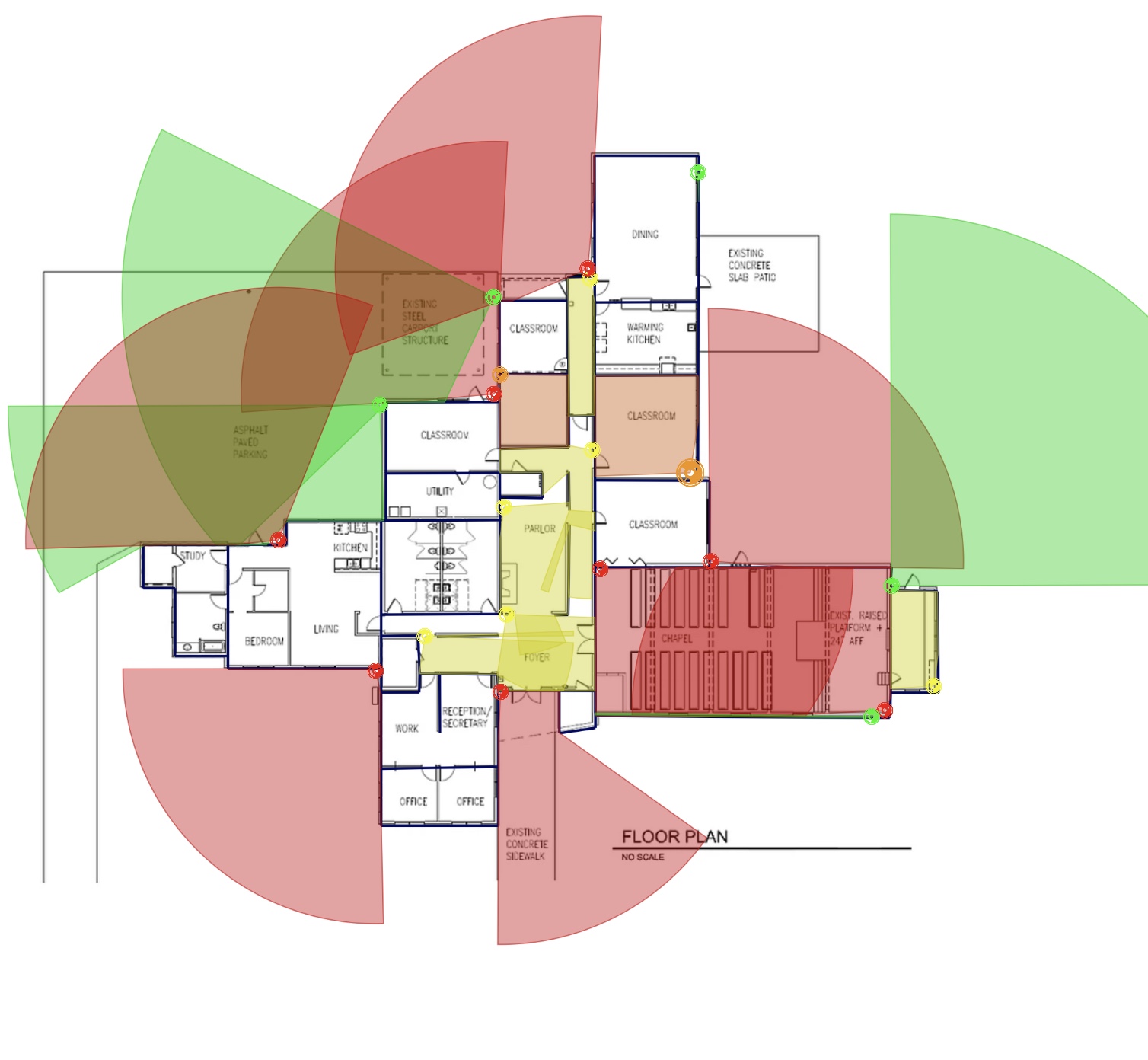 Sample Mega Church Security Camera Design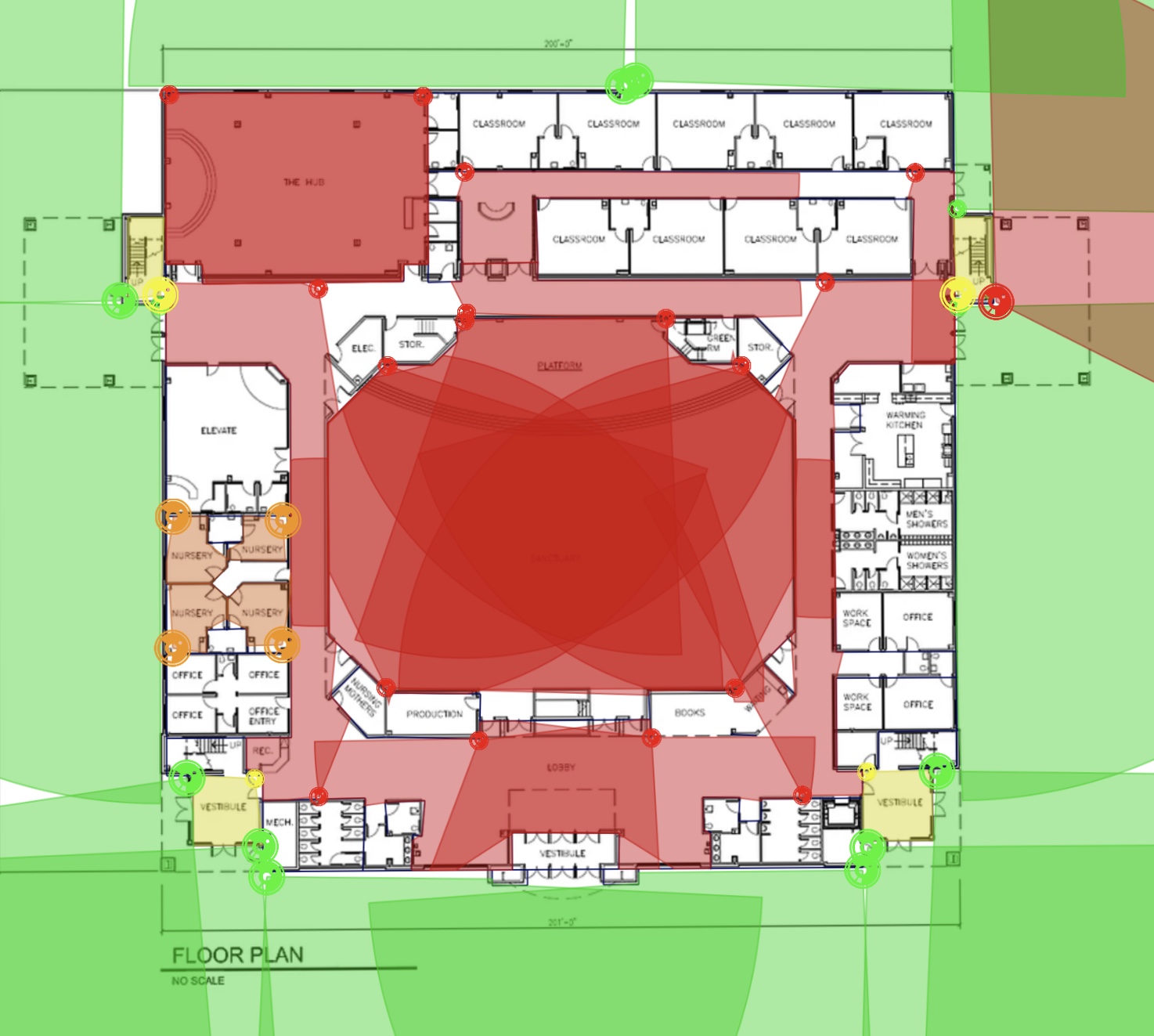 / images

Not sure what you need?
Lean on the experts
We'd be happy to work up a custom quote or take your floorplan and create a security coverage map.
Get a Custom Quote