How Do I Add Networked Security Cameras To An Admiral NVR?
First, Wire the Cameras and Admiral NVR According to this Diagram: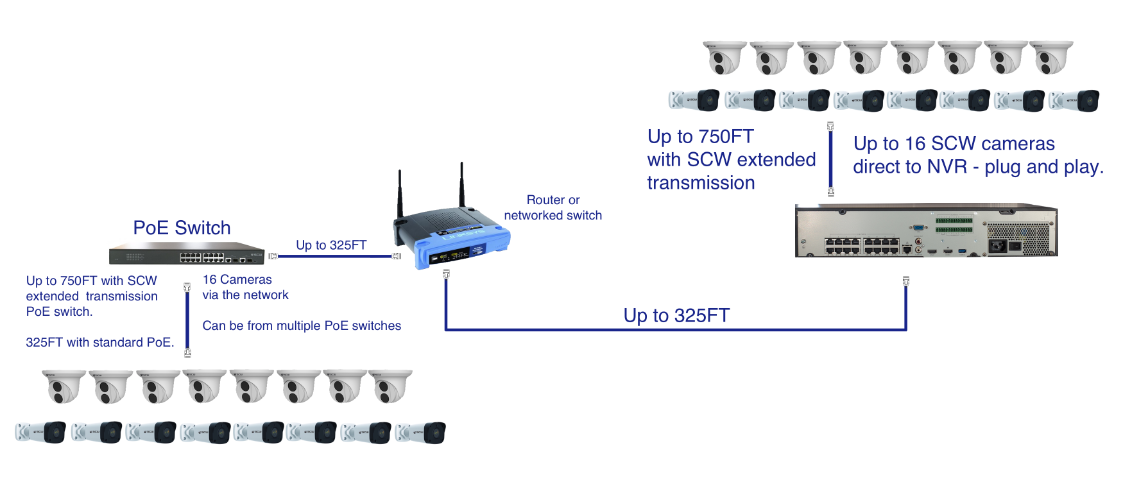 If any of your cameras are connected via a POE switch on your network, you will need to manually configure them. Do not connect a POE Switch to a camera port on the back of the recorder. Camera ports on the NVR do not have data transfer capabilities for more than one camera per one port. Once your POE switch is wired to your NVR's LAN port or a router, follow these steps:
Adding a Networked Camera Through the NVR Web Interface
Enter your NVR's IP address into a browser.
After logging into your NVR, go to Setup -> Camera. Select Auto Search to find the networked camera(s) detected by your NVR:
Make sure your camera is on the same subnet as your NVR. If your NVR has an IP address of 192.168.1.210 for example, your networked camera should have an IP starting with 192.168.1.___. You can edit the camera's IP address by selecting the pencil icon under Configure. The default username for cameras is admin, password is 123456.
After ensuring your camera has the correct IP address, exit Auto Search. Select an empty (greyed out) port and click on Modify:
Change the Add Mode to IP Address and input the camera's IP and password. The default username and password are admin and 123456, respectively, and save:
NOTE: All networked cameras connected to a POE switch must be within the same network range as your NVR.
Example:
NVR IPv4 Address: 192.168.1.210
POE Camera 1 IP Address: 192.168.1.211
POE Camera 2 IP Address: 192.168.1.212
Etc…
Cameras connected directly to the back of your NVR will be on their own Internal NIC (Default 172.16.0.1).