Chrome, Firefox, Internet Explorer, Safari, or Edge keeps asking for a plug-in.
Although you can edit most settings and live stream a camera feed in any of the major browsers, to take full advantage of our software features you will need to install our browser plugin or viewstation software.
With the latest firmware, our browser plugin supports Internet Explorer, and Chrome, Edge, and Firefox (in Windows).
The plugin allows multiple cameras live, playback support, setting changes, dewarping, and the ability to use the H.265 codex patents.
Full Browser Support
The following NVRs support Internet Explorer, and Chrome, Edge, and Firefox (in Windows) and are currently available for cloud upgrades.
Admiral 4ch (v2 only, no v1 support)
Admiral 8ch(v1 v2 and v3)
Admiral 16ch Standard (v1 v2 and v3)
Admiral 16ch Pro (v1 v2 and v3)
Admiral 32ch Pro (v1 and v3)
Imperial 32ch (v1 and v2)
Imperial 64ch (v1 and v2)
Imperial 64-16S
Imperial 128
Imperial 256
Updates Not Coming
The following NVRs will be unable to support plugins for Chrome, Edge, and Firefox (in Windows) due to chipset limitations. These NVRs can still be accessed by the Internet Explorer plugin, the IE compatibility mode in Edge, or the Mac/PC/Smart phone apps.
The Admiral 4ch v1
The Corporal 8
The Corporal 16
All 2017 or earlier equipment
---
How to Upgrade Firmware
The easiest way to upgrade firmware is to use the cloud upgrade option! The cloud will automatically pull in and update the latest firmware, even if you haven't updated for years!
You can upgrade via the Cloud by web or local interface. Note, when you upgrade firmware, your NVR will reboot automatically. While it is upgrading, be sure not to unplug, or interrupt the firmware update in any way. Losing power during a firmware upgrade can lead to an inoperable NVR with no recovery options for footage and settings.
From the In Person Interface
Go to Local Interface: Menu -> Maintain -> Upgrade -> Upgrade by Cloud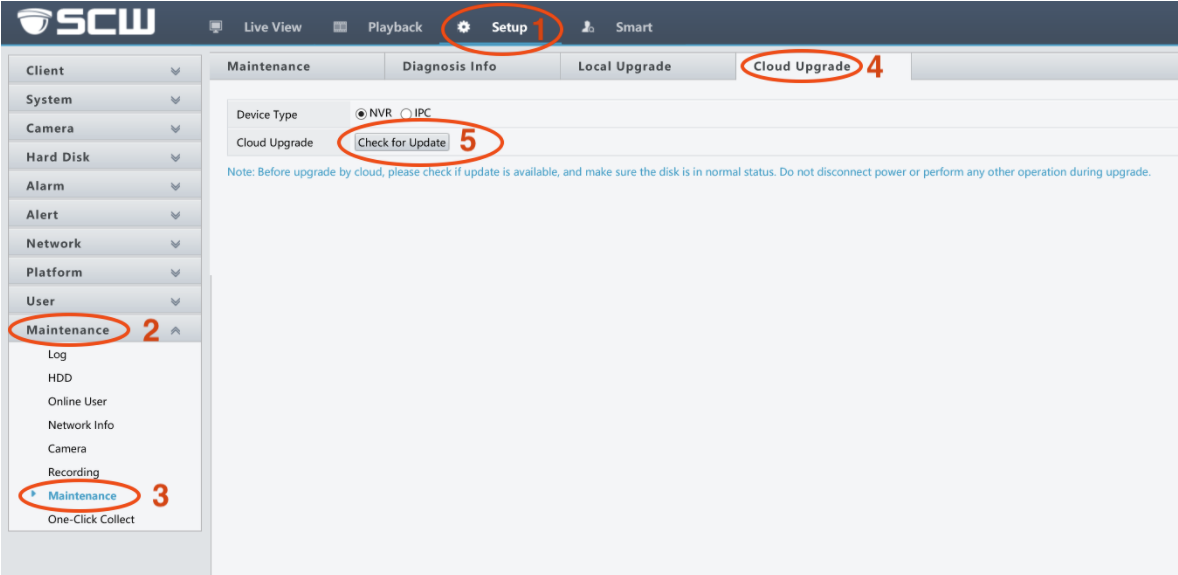 From the Web Interface
1. Login to your NVR through the web interface and click "Setup".
2. Select the "Maintenance" dropdown on the left.
3. Select the "Maintenance" sub option.
4. On older firmware versions, the upgrade button should be on this first screen, under the "By Cloud" button. On more recent versions, there will be a "Cloud Upgrade"; tab click that, and then check for an update there.
In some firmware upgrades, especially those NVRs on an older firmware, may experience issues with the web view, such as menus not loading. This is due to the cache and cookies saved on your browser not lining up with the new version of the software. Delete your cache and cookies in the browser, restart the computer, and this should be resolved.
Installing the Plugin
After the firmware update is complete, you will be prompted to download and install the new plugin. Click the link, open the installer, and follow the instructions. You may need to restart your browser after.
You may also get a Windows Firewall message asking if you want to run the plugin, be sure to hit allow access.
The next time you reach your NVR you will be prompted to run the plugin application - click the open option. Once allowed you'll be ready to go. Each time you access the NVR there will be a short initialization for the plugin, generally less than a second.
As of a firmware update released on 9/12/2019 for the newer Admiral/Imperial systems, partial support for Chrome, Firefox, and updated Safari browsers has been added. These browsers will allow you to, without a plugin, view one camera at a time in its live-view. These browsers do not yet support any playback.
Safari versions 11 and earlier WILL work for Mac with the plugin, which will need to be downloaded manually from our downloads page.
When you visit your web view with Internet Explorer, the plugin download option will become available. After downloading the plugin, you may need to restart your browser to "Allow" the plugin to run on your NVRs webpage when prompted.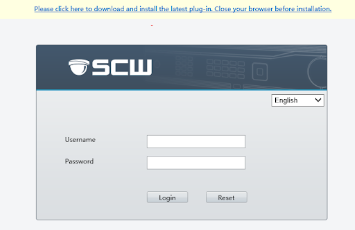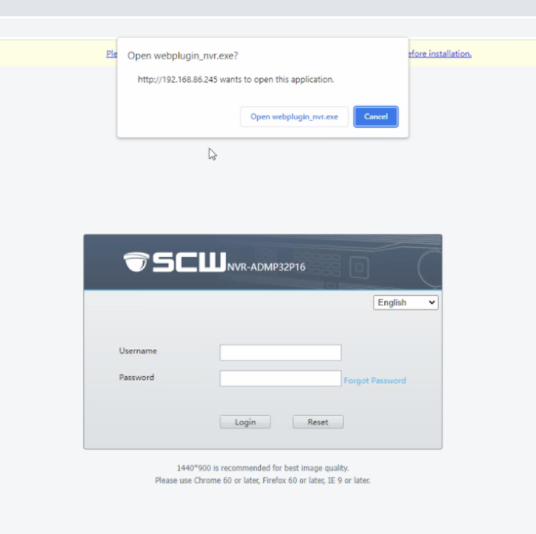 Mac Support & Roadmap
Macs currently do not support this plugin. Mac support via the browser is currently limited to one camera live view, setting changes, etc. For playback and multi-live view please download Viewstation for Mac.
Viability of the plugin on Mac is currently in very early development and investigation. We will update customers as more information becomes available. The current roadmap would potentially have a Mac plugin in the summer and is subject to change.
Recommendation: Use the Dedicated Apps instead of a Web Browser
A web browser is not an ideal environment for displaying multiple videos, as it natively can't use hardware acceleration to decode the video. You are going to get better performance using our dedicated applications.
SCW software is available for PC and Mac and can be used for live view and playback.
SCW View Station for Admiral and Imperial Line
Guarding Vision for Vanguard, Networker, Super, Econ, Ambassador, Econ HD, and Executive Line Software
FAQ
Q: Does this work on other browsers besides Edge, Chrome, and Firefox?
A: It does seem to work in other browsers - we did a quick try in Brave and Opera and it worked there as well, but the main support is for Chrome and the other major browsers.
Q: The plugin failed to load, what should I do?
A: Close the browser and retry, wait a few seconds on the login screen for it to fully initialize.
Q: Do I need to use Internet Explorer mode in Edge?
A: No - you can use Edge natively now instead of Internet Explorer mode.
Q: I hit cancel to allow the plugin through Windows Firewall - what should I do?
A: Click start and type "Firewall" - this should bring up the option "Firewall & Network protection" locate "Allow an app through firewall" and find "webplugin_nvr". Make sure it's allowed.
Q: How can I view multiple NVRs at the same time?
A: This should be done using the Viewstation software.
Q: How do I update with no internet?
A: You can update non-internet connected NVRs by downloading and installing the firmware manually. Please contact support.