Internet Explorer and Microsoft Edge
Microsoft recently announced that Internet Explorer as a desktop application will be retired on June 15th, 2022. Microsoft will continue to support Internet Explorer in another form - within the newer Microsoft Edge browser. Edge now features an "Internet Explorer Mode" which allows users to load specific webpages in Internet Explorer, complete with plugin support. This will allow users to use Edge and have full plugin features like multi view and playback.

SCW's Admiral, Imperial, and Corporal line of NVRs also currently offers "lite" support for other browsers such as Chrome, Firefox, Edge and Safari with single cam live view and full setting adjustments available. Increased support and features for Windows Chrome, Firefox, and Edge is currently in development.

SCW also recommends Viewstation as an alternative solution. Viewstation is our desktop application for Windows and Mac. Viewstation offers everything the browser application offers, and dozens of additional features that the browser doesn't. Features include simultaneous multi-NVR support, up to 64 cameras live, GPU decoding performance, multi monitor, and so much more. Our support team will be happy to help you set up Viewstation and understand how to get the most out of it.

This issue affects the great majority of the video surveillance market. Browsers have limited or completely dropped APIs, most browsers do not natively support h.265, and issues with HTML5 live multi streams have forced manufacturers to offer only limited support compared to former plugin versions.

As the future wind down of Internet Explorer proceeds, SCW will continue to work with our manufacturing partners, and internal teams to figure out how best to handle browser challenges. It's recommended to perform a cloud firmware check once a month on cameras and NVRs to make sure you have the latest versions.

Learn more about why SCW doesn't fully support Chrome, Safari, and Mozilla here.
Enabling Internet Explorer Mode
Follow these steps to enable "IE Mode" within Edge to gain full plugin access to your security camera system within Edge. IE Mode was introduced with Edge 77 and higher. Make sure your PC is up to date on Windows and Edge updates.
Step 1: Open Edge and navigate to settings via the "3 dot" icon on the top right corner and click "Settings"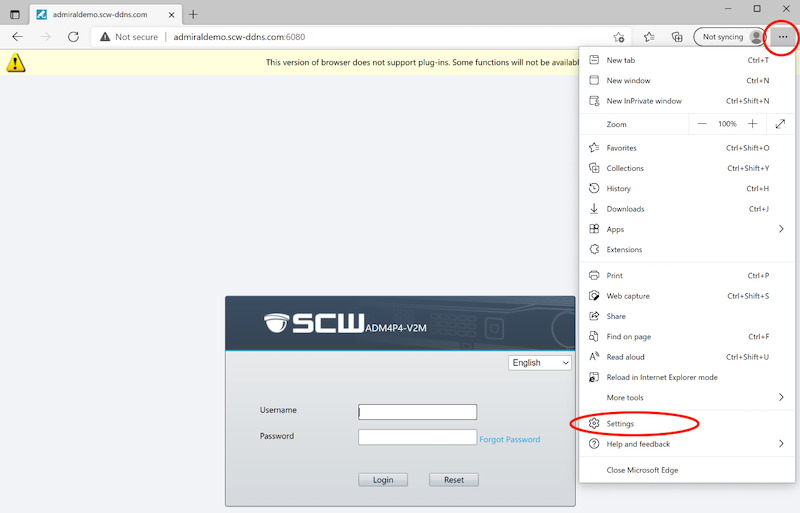 Step 2: From Settings find "Default Browser" on the left
Step 3: Under "Default Browser" find the "Allow Sites to be reloaded in Internet Explorer mode" option. Change "Default" to "Allow" and click restart to enable. This will restart Edge.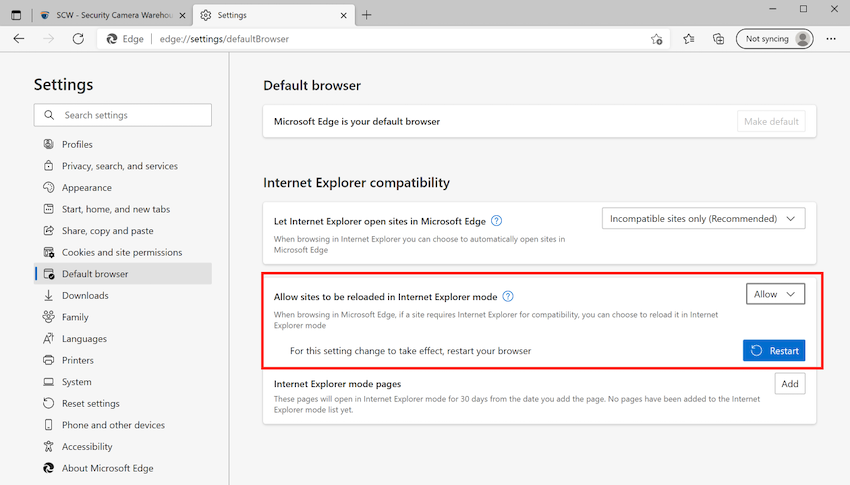 Step 4: Navigate to your NVR's login screen. Click the 3 dot menu button on the top right again, and click "Reload in Internet Explorer Mode"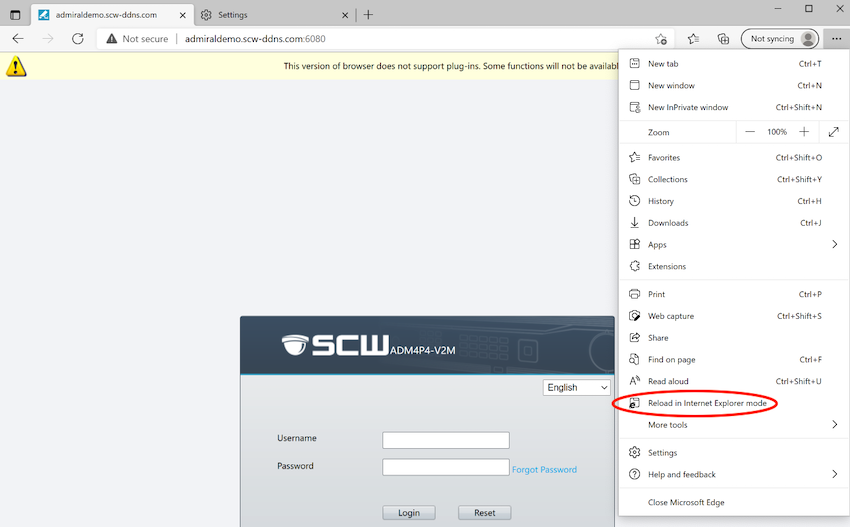 Step 5: You should get a popup confirming that the page is open in Internet Explorer mode. You can have the NVR's IP or DDNS address auto switch to Internet Explorer mode by clicking "Open this page in Internet Explorer Mode next time". If you do not get the pop up you can click the IE logo to the right of the address bar (circled in red)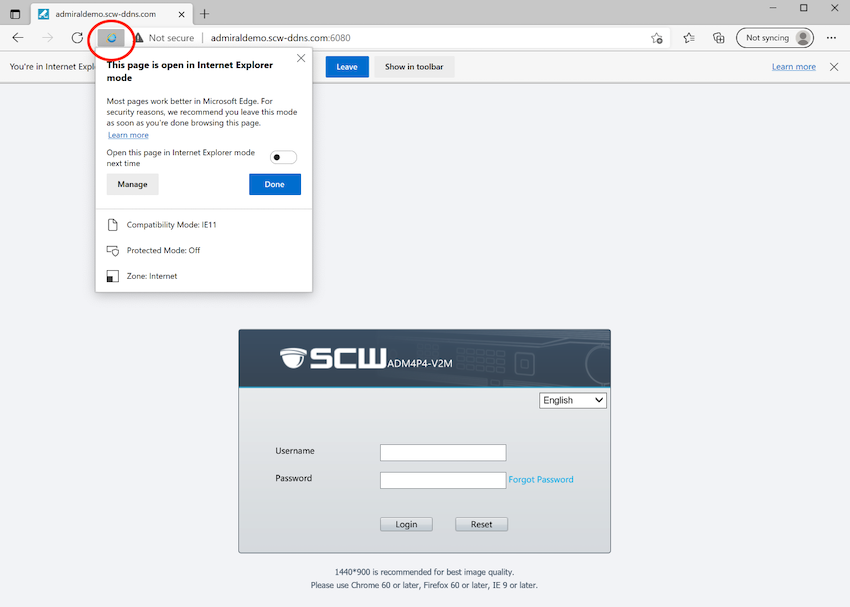 If you have any questions reach out to our support team for assistance