Why We Don't Carry HD-SDI or CVI, but Do Carry IP and TVI
Do you remember when you could buy HD-DVDs and Blu Ray DVDs? How about Beta-Max or VHS?
HD-SDI, TVI, CVI, and IP are four competing standards for HD video recording. Like Beta-Max and HD-DVD's, HD-SDI wound up on the losing end of a format war against IP cameras and NVRs for the the HD surveillance camera standard. Now, HD-SDI's "replacement" CVI will fail too. TVI might survive. Here's why: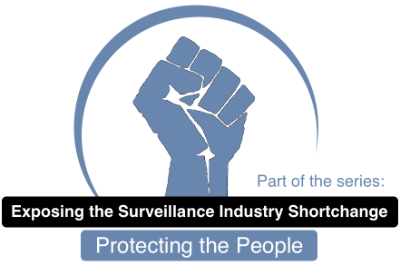 ---
Update: On 5/24/2018, the House of Representatives passed a resolution to prevent the federal government from making purchases of surveillance cameras from 4 factories in China, including the major providers of nearly all HD-over-analog supply chains. Although, we conclude in this article from 2017 that IP cameras are your best option and TVI is a second place finisher, with this new information surfacing, we recommend our 2018 line of IP cameras, the Admiral and Imperial lines, especially for government projects, where older legacy products have the real possibility of a federal-use ban.
---
2010-2013: IP vs. HD-SDI - IP won
We stopped carrying HD-SDI about a year and half ago (middle of 2013) and now most major manufacturers are abandoning the technology due to the high cost of production and turning instead to less expensive alternatives like TVI that offer better technology at a lower cost. This means that if you do buy an HD-SDI system, you may not be able to add a camera later or replace a broken one.
IP cameras have come down significantly in price from where they once were in 2010, deliver a better image quality than HD-SDI, and provide a easier to manage solution that can communicate with other digital devices such as
alarms, POS, and access control units.
Why HD-SDI lost: Installation Comparison of 16 Channel HD systems:
SCW HD Systems: Easy
Notice how all the cameras plug into the NVR? This means that all the cameras will auto-configure and be powered by the NVR. There's no need to know how to set IP address or do any networking setup.
Plug in the one wire and it works.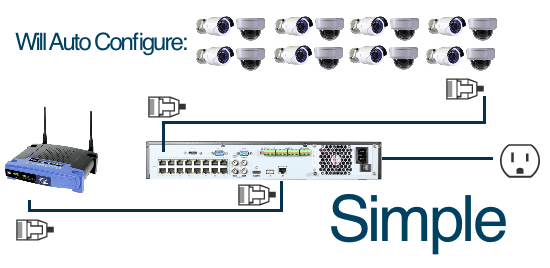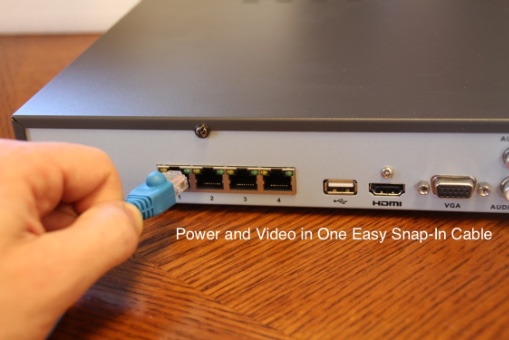 Analog, CVI, TVI, and HD-SDI: Difficult
Notice how these systems requires an electrician's help? Power distribution boxes are complicated and have exposed wires. You can use power plugs for each camera, but that's gets cluttered and may not have any protection from power surges.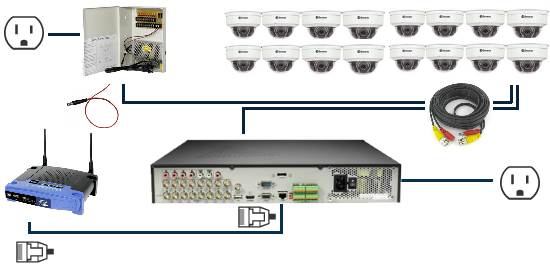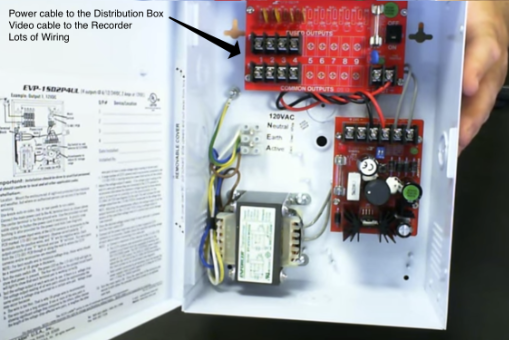 The only real benefit that HD-SDI had was that you didn't have to rewire if you had already run BNC Siamese cable.
...or so everyone thought.
HD-SDI is all but dead for respectable companies, because the main benefit of HD-SDI ("You don't have to rewire!") ended up not being entirely truthful. HD-SDI is really fussy about cabling, which meant a lot of people had to re-run the cable anyway because of small nicks, kinks, or other unknown issues with the line. This often meant that you really did have to replace your old cable.
And this is where you can stop if you are asking "What format should I use for a new installation?" IP cameras won the format war- that is undisputed. IP cameras are the better technology. They are easier to setup, don't require an electrician's help to install, don't deal with low voltage power boxes, and are as easy to plug in as a phone line. Additionally, while the three HD-over-analog technologies HD-SDI, AHD, CVI, or TVI are finally catching up to 1080P resolution (1920 x 1080), the price point on 4k IP cameras (4,096 x 2,304) should begin to be very reasonable by late 2016 and Sony invented a 10k IP camera (10,328 x 7,760) in 2015.
More and more devices are becoming networked as the world transitions to "the network of things" and industries like home-automation take off. Only with IP cameras and NVR will all your networked systems will be able to talk with each other, and as 4K TVs take off and the price of higher-than-1080P cameras decreases, 1080P will no longer be considered a "good enough" system. Nearly all innovation in the industry has been and will continue to be "IP first."
If you question is, "What do I do on a new install?", go with IP cameras and an NVR.
But, what if your question is "I've already run BNC Siamese cable for my analog system and I want to upgrade, what should I do?"
Although you would never want to run legacy BNC cable on a new installation, the cost of removing cable you already run and putting in new cable, can be daunting. You will have to do it eventually, but it may make sense for you to do it later.
If you are looking to upgrade to HD without having to rewire, we're going to look into the 2 new technologies raging the secondary format war- the war for the pre-cabled upgrade.
2014: The Rise of CVI and TVI and the Liquidation of HD-SDI
HD-SDI is quickly being replaced by HD-CVI and HD-TVI, which like HD-SDI, use BNC Siamese cable but have less issues with loss of signal on long runs.
Companies are trying to liquidate their stock of HD-SDI by reducing prices.
We recommend staying away from HD-SDI as it is being liquidated.
CVI is only made by one company: [company name removed at their request]
We won't be carrying HD-CVI at all. The main reason we won't carry it is that HDCVI Digital Signal Processors (DSP) and HDCVI Digital Video Recorder (DVR) boards are only made by one company: [company name removed at their request]
We think there's a huge risk that CVI will go the way of the Betamax because only one company makes it.
UPDATE: In Oct of 2016, our fears about CVI were realized when [company name removed at their request]'s devices were hacked and used to bring down most of the US internet. Many companies pulled their products. A few renamed CVI as HDAVS or MPX to avoid that connotation of being associated with the hacking.
Although it uses the same cable, CVI (Composite Video Interface) is not backwards compatible with analog cameras and is available in 720P or 1080P versions. The Generation I (what is in most stores now) CVI 1080P versions are not even backwards compatible with CVI 720P. [company name removed at their request] just came out with Gen II which supposedly works with both their 1080P and 720P cameras, but few stores have them in the United States). [company name removed at their request] also now sells "Tribrid" model DVRs which are compatible with SD analog, HD-CVI analog, and IP cameras, but Tribrid DVRs are more expensive.
Number of companies that manufacture CVI:
1
Number of companies that manufacture TVI:
100
HD-TVI is Backwards Compatible, and is Made by Many Manufacturers
TVI was invented by a company called Techpoint out of San Jose, CA, but Techpoint doesn't make cameras. They make chipsets. This the most important distinction between TVI and CVI.
With CVI you can only buy [company name removed at their request] manufactured cameras or recorders - and if [company name removed at their request] goes out of business or starts overcharging for their products, you are stuck. With TVI you can shop around, because it is an open platform - you don't get boxed into one provider. If Samsung innovates something new, you can buy it. If you like the Aptina sensors in the cameras made by TVT and the UI on Hikivision's TVI DVR, you can mix-and-match and use both of them, because it is an open platform. Both TVI and CVI are young platforms and will have additional innovations, the flexibility of being able to work with any manufacturer is more important than an individual feature at this point. Techpoint claims that 100 different manufacturers use their technology.
We think TVI (Transport Video Interface) will become the new analog. It is backwards compatible with analog cameras and is available in 720P or 1080P versions. The TVI 1080P version is backwards compatible with TVI 720P.
TVI has been embraced by the major players in surveillance: Samsung, TVT (fourth largest manufacturer of CCTV equipment), Hikvision (world's largest manufacturer of CCTV equipment), and, according to Techpoint, 100 more manufacturers.
Although HD-TVI is able to do 720P and 1080P, we expect HD-TVI to replace traditional analog cameras, not HD IP cameras. IP cameras are still going to be the most versatile, best performing cameras on the market. Because they have their own processors and IP addresses, you will still be able to do video analytics like motion detection and intruder alert emails, have easy to use settings that can be changed with any web browser, will still be able to communicate with other digital devices, and will still have the easiest installation (no power distribution boxes necessary and no need for an electrician - just one cable to clip into place for power video and for auto-configuring the network).
HD-TVI is backwards compatible, unlike HD-SDI, so you will still be able to connect traditional analog cameras. If you are considering HD-SDI or HD-CVI, we think the best bet is to look at IP cameras or wait for TVI.
A word of caution: Stay away from "Analog HD" or "HD over Coax" products. If a company won't say if they are using HD-SDI, CVI, or TVI technology, assume that it is abandoned HD-SDI technology. Also, stay away from AHD, as this is a pretty inferior knock-off that has only been embraced by the smallest manufacturers. No industry leaders use AHD at this time.
Don't get stuck with the Betamax of the surveillance world.
Beyond 2015: IP Cameras and NVRs Will Outpace TVI, CVI, and HD-SDI Combined
We expect HD-TVI to be a hit, but that doesn't mean it is the best. TVI should take over and become the new analog. Even at day 1 launch, TVI is not as good as IP, despite being newer.
TVI (and HD-SDI and CVI before that) use digital tools to compress a signal down an analog wire. It can never be as good as a true digital solution. Expect IP cameras to increase in resolution much faster than TVI.
1080P is about 2.4MP, our IP cameras are almost all 3MP or higher. We have some 5MP cameras as well as a 6MP.
If you already have analog BNC cable run, TVI is a great way to upgrade to HD.
Just Getting Started with Security Cameras?
---
Get the SCW Beginner Guide!
New to security camera systems? Confused by Analog vs IP? Bullet vs Dome? Indoor vs Outdoor? Don't even know what PTZ means?
No problem! Download the SCW Beginner Guide and get all your questions answered right away!
---
If you Haven't Run Old-School BNC Cable, it's Hard to Argue with Higher Resolution and Lower Installation Costs of IP, even if TVI products are cheaper.
/ images