What are these red (or sometimes blue) flat cables in the NVR accessory box?
They are SATA cables. SATA cables are used to connect additional hard drives to your NVR. Here is a picture of what they look like:
Why are there extra cables?
There aren't always extra cables.
When you buy an NVR with a hard drive, we attach these cables to each of the hard drive(s) that you purchased with your NVR.
If you have extra cables in your box, that means that you have an unused hard drive slot. We include the extra cables in the box when you have an unused hard drive slot, so if you decide you want more storage in the future, you can add another hard drive.
If you don't have any extra cables in your box, you filled all your hard drive slots on your initial order. The only way to increase your storage is to remove a hard drive and replace it with a bigger one.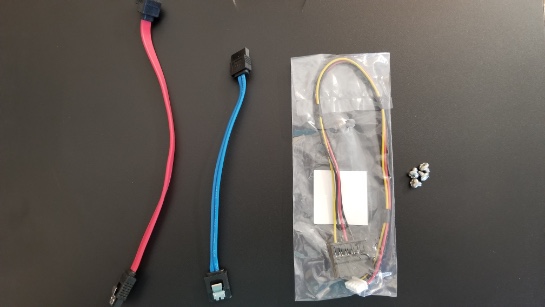 What should I do with the extra cables?
Rather than getting rid of these, you should store them where you can find them later. We recommend keeping them in case you need to add hard drives in the future.
What cable does what?
The red or blue cables with the "L"-shaped connector on one side carry data. Red SATA cables are no different from blue SATA cables.
The pin connector (shown in the bag, in the image) carries the power for the hard drive.
How do I install another hard drive with these cables?
This related guide, How to Install a Hard Drive in an NVR or DVR, shows how to attach these cables to your NVR if you want to add a second hard drive.
I kind of threw them away, and now I want to add another hard drive
You can buy these at any computer store or online. We can also send you a replacement set if you purchase the extra hard drive from us and tell us that you need the SATA cables when you place your order.