SCW Shield App Setup Instructions
SCW Shield App works with SCW Shield Hubs and Sensors.
---
Download and Install the Shield App
Before you can setup SCW Shield, search for and Install the SCW Shield Application in the app store.
The SCW Shield App is available on the Google Play Store on Android and the Apple App store for iPhones and iPads.
USERNAME & PASSWORD
You will have received a username and password in your email shortly after placing your order. If you cannot find this email, give us a call at 866-414-2253 and we can resend it.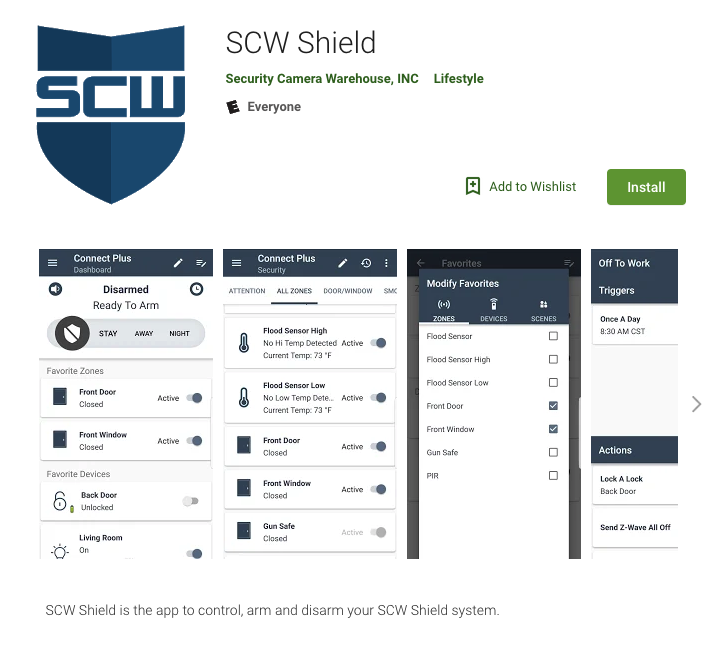 SCW SHIELD APP OPERATIONS
---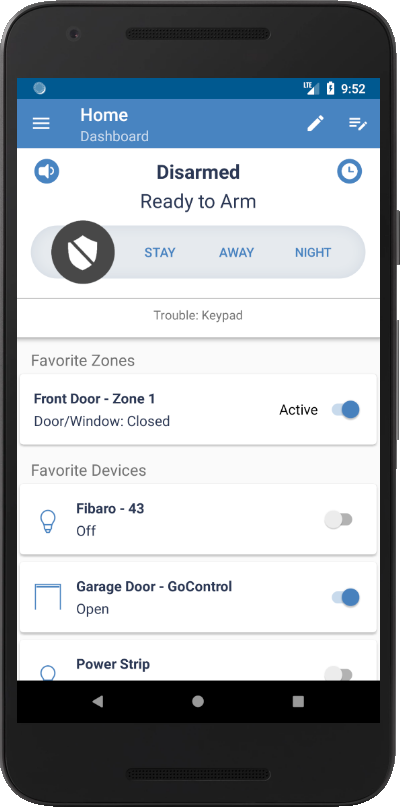 Dashboard
DISARMED
System is completely disarmed. No perimeter or motion sensors will trigger an alarm.
STAY
System perimeter sensors are armed. This includes windows and doors. Motion detectors will not trigger.
AWAY
System is completely armed. All perimeter and motion sensors will trigger an alarm.
NIGHT
This special mode allows you to arm perimeter controls as well as arm certain motion detectors. You might use this option if you have a motion detector in an area nobody should be in - like a garage, basement, or attic.
Note: Only SCW tech support can set which motion detectors trigger alarms in night mode. To adjust your night mode contact SCW's support.
---
TURNS OFF ARMING SOUNDS
Silences the Countdown Beeps. (Must be enabled prior to arming)

TURNS OFF ENTRY DELAY
This button turns off the entry delay for the door sensors - only use if you have a keyfob or are in night mode, as you won't have enough time to open the door and put your code in before the alarm goes off. (Must be enabled prior to arming)
---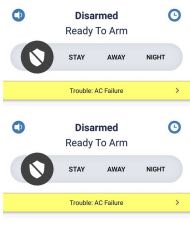 TROUBLE BEEPS
Trouble beeps indicate a non optimal situation for the system. This can include AC loss, network drop, low battery on sensors, etc. Beeps will occur every minute unless the trouble is suppressed/silenced or addressed.
Your SCW Shield app will alert you via push notification of any trouble and allow you to silence the troubles.
To suppress a trouble, tap the trouble banner, then tap the "bell" icon in the top right corner.
Trouble beeps will be suppressed for 24 hours.
Note: Trouble beeps will automatically be suppressed between 8:00PM and 8:00AM.
---
ADDING A USER:
If you'd like to add someone to your SCW Shield system you can do this via the SCW Shield app.
ON IPHONE/IPAD
» Tap the Gear Icon (Top Left)
» Tap "Manage Users"
» Tap the "+" icon in the top right
» Fill in the user info
ON ANDROID
» Tap the Gear Icon (Top Left)
» Tap "Manage Users"
» Tap the "+" icon in the top right
» Fill in the user info
USERNAME:
This is the login you will use to log into your SCW Shield app. We strongly recommend using your email. It must be a unique identifier to you.
PASSWORD:
Use a strong password to secure your SCW Shield system
EMAIL:
Email address for the account.
FIRST & LAST NAME:
Name of the person you are adding to the account. Once the user is added you must grant permission to your SCW Shield system. To grant permission, tap the newly created user and enable permission to the system.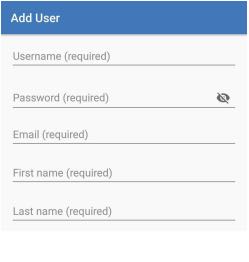 Related Guides:

We're happy to help you setup any home automations, but here's a guide on how to do it yourself.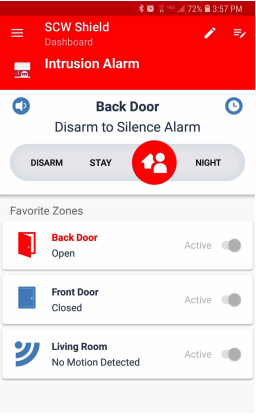 We've all done it. Here's how to call off the calvary.

Whatever sensors you order at the same time as a Shield hub will be paired by SCW for you, but if you want to add a sensor to an existing Shield installation, there's a small process to follow to pair the sensor with the Shield hub.