HELP! I've set my Alarm Off By Mistake!
We've all done it. Here's how to call off the calvary.
---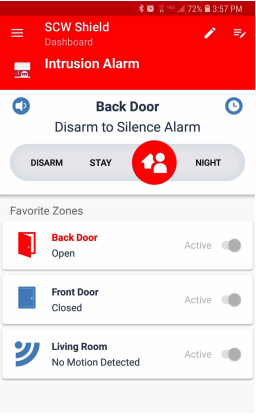 STEP 0: DON'T PANIC
You SCW Shield system is going off for a reason. In this specific scenario the door was opened and the system never got disarmed. You might have other easy to forget scenarios like opening a door to go outside while the system is armed Stay/Night Mode. It's easy to lose your sense of reason when a loud alarm and/or sirens are going off, after all it's designed to scare and daze intruders. Stay calm and understand that disarming and silence is a few button presses away.
STEP 1: DISARM!
The first thing you'll want to do to stop the sirens and alarm, is to disarm the system. You can do this via your pin pad or your SCW Shield app.
Pin Pad:
Simply put your PIN code in the pin pad to disarm.
App:
Open SCW Shield and click "Disarm." Depending on app settings you may have to put in your PIN as well.
STEP 2: MONITORING
If you purchased professional monitoring you will be receiving a call from dispatch asking for your passphrase and if things are OK. Be sure to give the right passphrase or the police may be dispatched. Excessive dispatching may result in fines from your police department.
STEP 3: RE-ARM THE SYSTEM
After you've squared away the alarm, don't forget to re-arm the system if you want protection. Hit the arm button on the pin pad or arm as you wish on the SCW Shield app.