How to Design a Security Camera System for a Larger Home
Not all homes are small and simple. In these examples, we will be showing how to design a security system for a home that has more variation in its floorplan.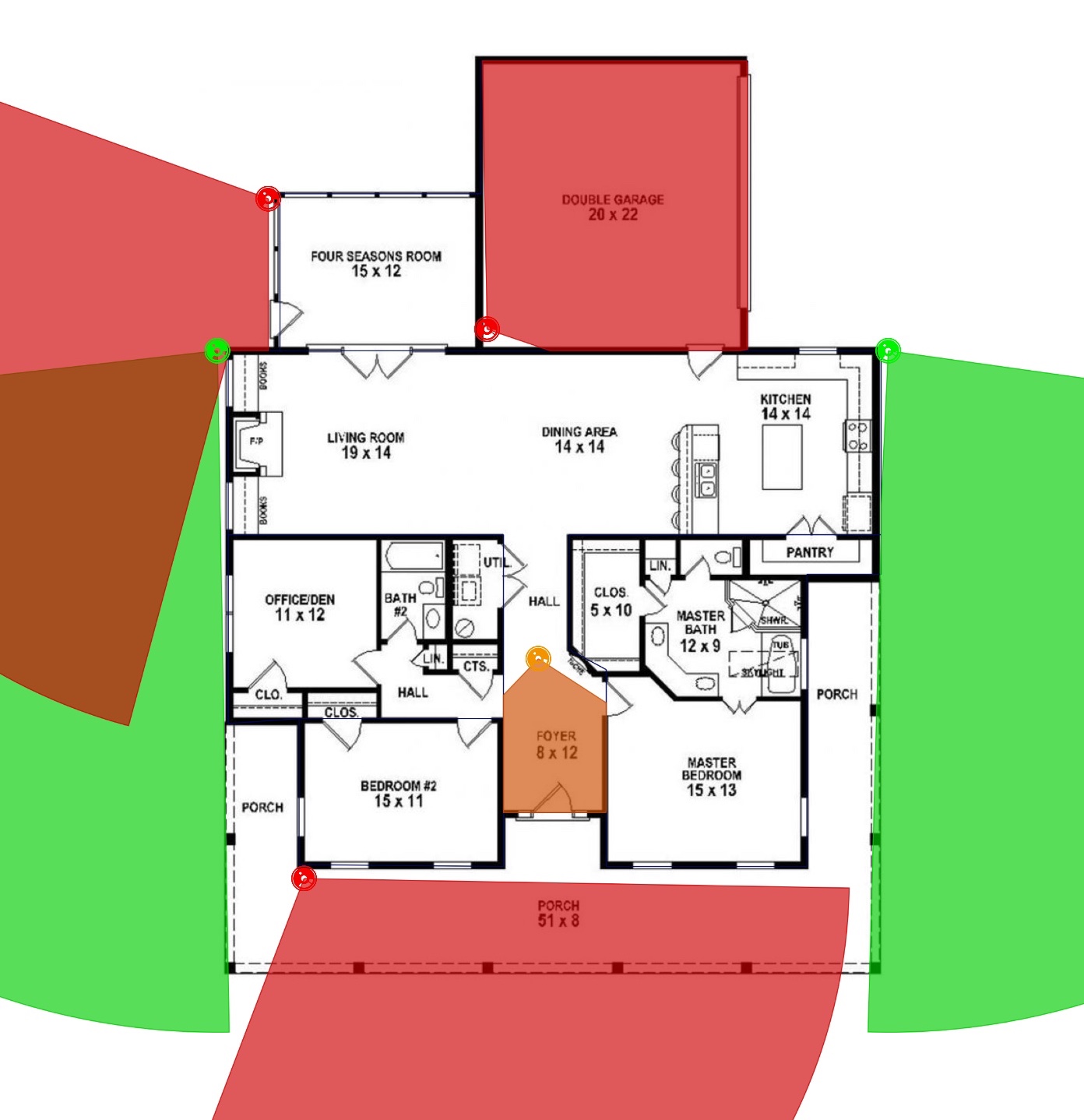 Version 1
Explanation
Goals: Larger homes can be a bit more complex, so we made two versions of this system, each with different goals. The goal of this first version is to guard the access points to the house. While the goal of the second version also covers the yard and decks/porches.
The Green cones are the line of sight for our most commonly used camera: the Warrior 2.0. You will have a clear enough picture with these cameras to be able to ID someone at 50 feet, because they shoot in 1080P at 30 pictures per second.
The Red cones are the line of sight for our camera that does a wider angle: the Deputy 2.0. This camera is great for covering the most field of view. It does 110 degrees of coverage, with a 1080p resolution @ 30 fps. You will be able to recognize someone up to 40ft away from the home.
The Orange cone is for our Informant 4.0 camera. This camera has a 101 degree view and was specifically selected because it can record audio.
It is important when you record audio to post proper signage about the audio recording as to not break the Federal Wiretap Act. This home wanted to record audio in this area to enable our Audio Detection Analytics which can trigger Snapshot if volume exceeds a threshold or suddenly changes. Snapshot can either send an email alert / FTP transfer of images when audio changes, lines are crossed, people are loitering, intrusion into an unauthorized area, and many other events.
---
Want us to create a custom floorplan for your home?
---
Version 2
We've also included a 16 camera version of this system. Although the 12 channel version completely covers the access to the building, it has some large holes on the coverage of the yard. This 16 channel version shows how you could modify the 12 channel system to also have good coverage of your yard, There's no such thing as a 12 channel recorder (if you buy one of our 12 channel systems, it can record 16 cameras), so you can expand to 16 cameras later on.
---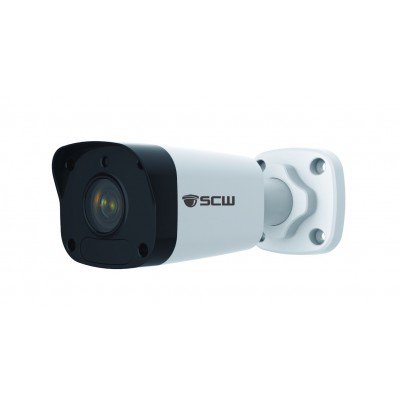 The Warrior 2.0 - 26BF2 - 1080P Fixed Lens Mini Bullet Camera
---
Resolution

---
1080P @ 30 FPS; 1920 × 1080
Detect: 100 ft
Recognize: 50 ft
Identify: 25 ft

Processing Power and Compression: Not All 1080P Cameras are Created Equal
---
Weather

---
IP67
Full protection from dust, rain, snow, dew, frost, and sprinklers.

You can even submerge it for a few minutes.
---
Temp

---
Temperature rated from -31°F to 140 °F
Humidity rated between 10 and 95%.
---
Lens

---
Fixed: 4mm
85° of coverage

Digital Zoom Only

Learn about Digital vs Optical Zoom
---
Day/Night

---
Infrared night vision up to 100 FT
Larger image sensor for low light
Color video possible until 0.02 lux
---
Special

---
Digital Wide Dynamic Range
The Warrior is our most popular camera model. It is tied with the Deputy in terms of how easy it is to install and position, since neither camera requires you to remove any part of the camera to screw it into the wall/ceiling/soffit. This makes it ideal for outdoor use as you don't have a tendency to trap moisture in the lens, as is common with dome cameras, where you have to remove the outer glass dome to mount them. The 81 degree lens is great balance between covering a large area and identifying faces and license plates. Although you can use this camera inside or out, the most common use of the Warrior models (the camera comes in 2MP, 4MP, or 8MP) is to cover the side of buildings or large sections of yards.
Sample Photos taken by the Warrior 2.0. Click to enlarge the images. Press ESC key to close.
| | | | | |
| --- | --- | --- | --- | --- |
| 10 FT | 20 FT | 50 FT | 75 FT | 100 FT |
| | | | | |

Detect someone up to 100 feet
"Detecting" a face means being able to tell that a human face is in the picture.

Recognize someone up to 50 feet
"Recognizing" a face refers to being able to say "I have seen that person before" - even if you don't know or can't place who it is.

Identify someone up to 25 feet
"Identification" refers to being able to make out identifiable marks with enough certainty to make a sketch or claim.
---
---
If this is your exact scenario, we've listed both the 12 camera and 16 camera version of this system below.
/ images