How to Setup HotSpare NVR
The Imperial line of NVRs, our Enterprise Level of NVRs, offers the ability to set a redundant, backup NVR on the network. The redundant NVR will automatically take over cameras in seconds after detecting issues with the main NVR, giving you virtually zero downtime. When the main Imperial NVR is restored, the redundant NVR will transfer footage back to the main imperial seamlessly.
Key Features:
24/7 Redundant Operation
Virtually zero downtime
Restores footage to main NVR when restored
One redundant NVR can backup multiple NVRs
Hot Spare Setup Details Diagram for one NVR
If you have a single Imperial NVR and you wanted to have a redundant Imperial you simply have to connect the redundant Imperial to your main network using LAN1 and connect the camera network/switch to LAN2.
This will give the redundant Imperial access to both capture cameras and communicate with the Imperial on your main network for any status issues.
Multiple NVR Setup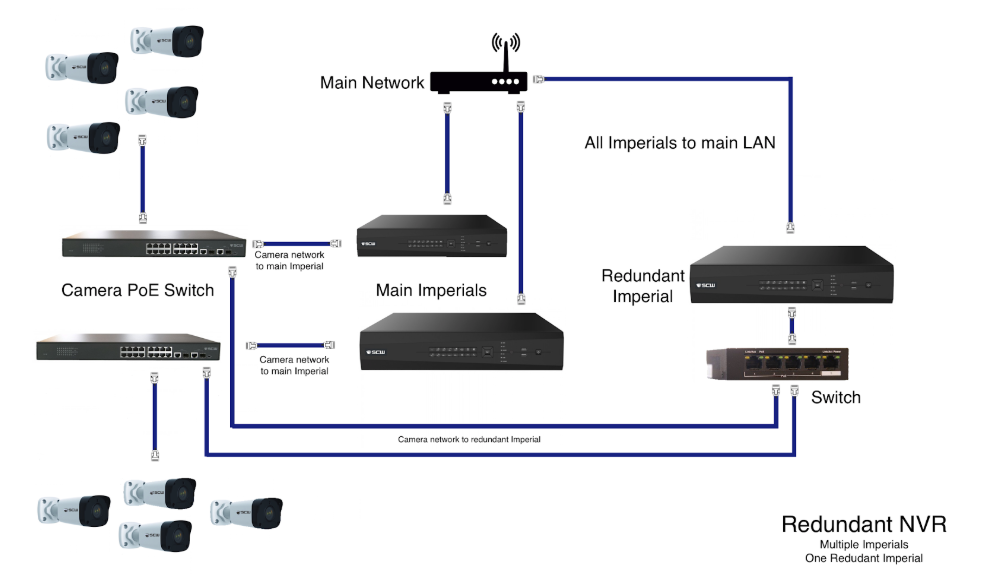 Multiple Imperial Diagram
For networks with multiple Imperial NVRs - you can have just one Imperial act as a redundant unit, lowering your costs by preventing the need to have one redundant for every NVR.
To setup a multiple redundant setup you will have to connect both camera networks to the redundant and connect the NVR to the your main LAN.
In order to connect multiple camera networks to your redundant Imperial you will need a switch. Ensure that the switch is gigabit speed and will not bottleneck camera traffic.
Note: The redundancy for multiple NVRs depends on channel number. For example, a 64 channel Imperial could pick up and back up two 32 channel Imperials or two 64 channels could be backed up to a 128 channel.
NVR Setup
To setup your Imperial NVR as a redundant NVR follow these steps below.
Redundant NVR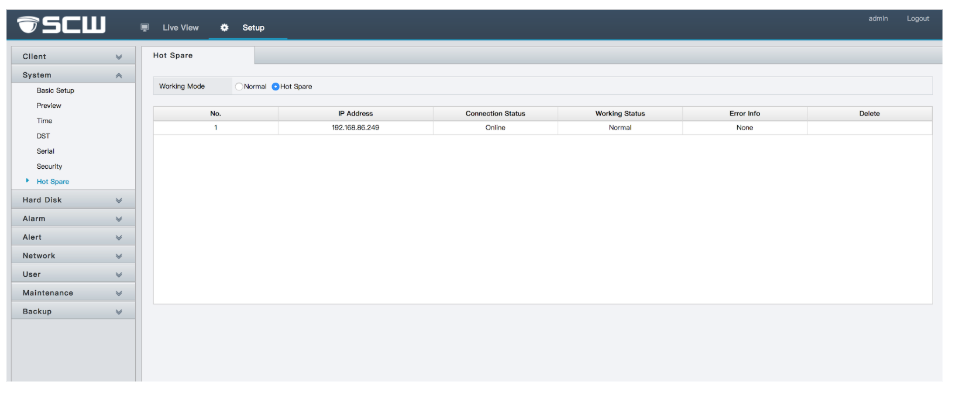 From the Web Interface of the spare NVR, go to Setup - System - Hot Spare and then switch the toggle to "hot spare"
You don't have to do anything to the primary NVR.