Unlimited Channel Surveillance Systems that come with SCW Know-How
World-class technical support included.
3 Year Warranties (with the option to upgrade to 5).
Free apps so you can watch your security cameras wherever you are.
Our support team will happily help with networking, setting up remote viewing, and customizing our alert and recording settings to best meet your needs.
We'll also help get your team trained through phone calls and screen sharing.
SCW's security cameras systems allow for nearly unlimited scaling - as many cameras you need, as many locations as you have.
Simply use SCW Viewstation for Windows or Mac to enable up to 64 cameras live view from up to 250 different NVRs. Viewstation makes it easy to view, playback, and organize your large facility's camera system.
Enterprise Scaled Security Camera Systems
Large facilities with the need for more than 128 cameras can use multiple SCW NVRs to both a bandwidth and network security friendly solution.
The IMP128 offers 4 network interfaces, this gives you the ability to create up to 3 separate, private, and secure networks for your cameras, while still connecting the NVR to your LAN for viewing on computers and mobile devices. The separate networks allow you to avoid having to worry about bandwidth and security controls on your main network - limiting your IT overhead and infrastructure costs. Check out the diagram below for an example.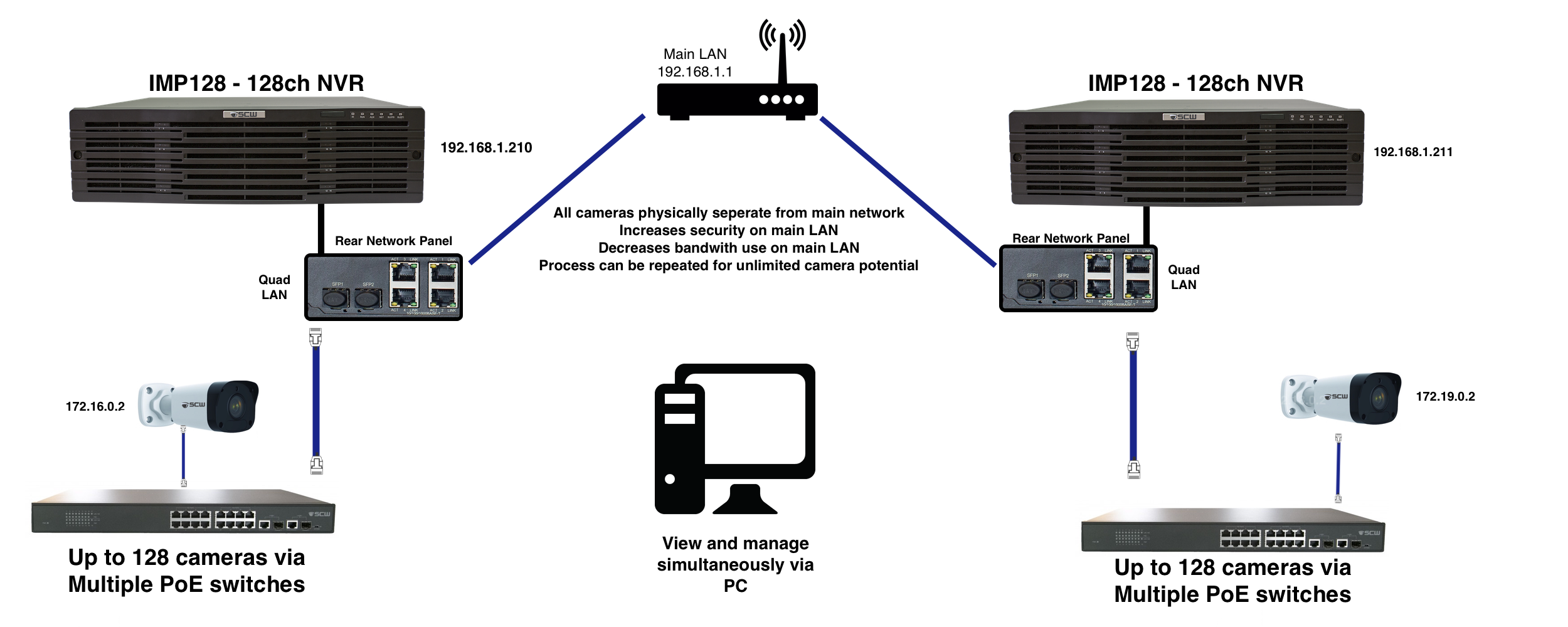 In this example up to 128 cameras can connect via PoE switches, have a totally different LAN setup, and still get back to the main LAN using one of the four available LAN ports. This can be repeated nearly unlimited times for systems over 128 cameras.
Camera systems with more than 100 cameras are custom created. We'd be happy to give you a quote after looking at your floorplan.
/ images