How To Daisy Chain Analog PTZ Cameras
Up to thirty-two Analog PTZ cameras can be daisy-chained for up to a maximum of 4,000 feet.
Daisy Chain Analog PTZ Cameras Diagram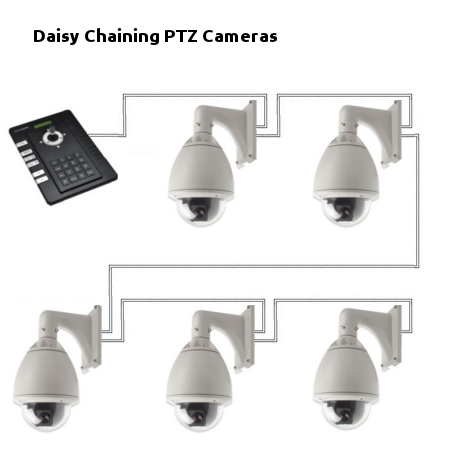 How to Daisy Chain Analog PTZ Cameras Description
For PTZ Cameras, there are three cables as opposed to the normal two for regular cameras: power, video, and data.
Step one: Run RJ45 (aka CAT5) between each camera like the diagram above. RS45 is your data cable and there should be two plugs on the back of your PTZ camera, an RJ45 in and a RJ45 out.
Step one (ALTERNATIVE METHOD ONE): You can also run RS232 (aka serial cable) to carry data for PTZ cameras, but should only be used for very short distances and small applications. Daisy-chaining serial cable can be done, but again is limited by distance as it is not a twisted cable. We do not recommend this method.
Step one (ALTERNATIVE METHOD TWO): You can also use RS485 which is a one-way connection from the DVR/NVR to the camera and is a single twisted pair. RS485 will work up to a few thousand meters.
Step two: Run a Siamese RG59 from each PTZ camera to your DVR/NVR and power supply box as you would for any other security camera. If you don't know how to do that, consult our Running CCTV Cable Guide. RG59 is your power and video cable.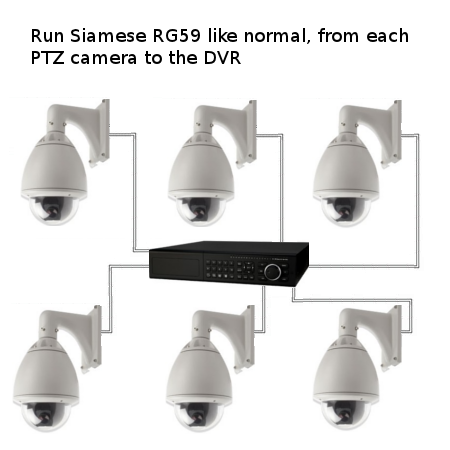 Step three: Ensure that your DVR and all your PTZ cameras are set to the same protocol, e.g. PELCOD. Your manuals should tell you how to do this. In most cases, you won't have to change anything.
Step four: Assign a distinct ID to each camera using the DIP switch. The DIP switch is usually a bank of tiny switches inside the PTZ camera. You will probably have to use a needle or small screwdriver to change them. You will need to consult the manual on your specific PTZ camera to determine how to do this.
Step five: Assign termination. On each PTZ camera, there is a setting called "termination." This means that it is the last one on the chain. You will want to turn termination off on all but the last PTZ camera. Again, consult the manual on your specific PTZ camera.
Step five (ALTERNATIVE METHOD): The termination method is by far the best solution. As a workaround, if your PTZ cameras do not have a termination setting, you can set each camera to a different Ohm and not have to deal with this issue.
High Speed Dome and PTZ Cameras
SCW does not carry Analog products anymore. Here are some IP PTZs.
/ images

Not sure what you need?
Lean on the experts
We'd be happy to work up a custom quote or take your floorplan and create a security coverage map.
Get a Custom Quote