Survail's

Use Cases
We turn surveillance video into a tool that helps your entire organization perform better.
Book a Demo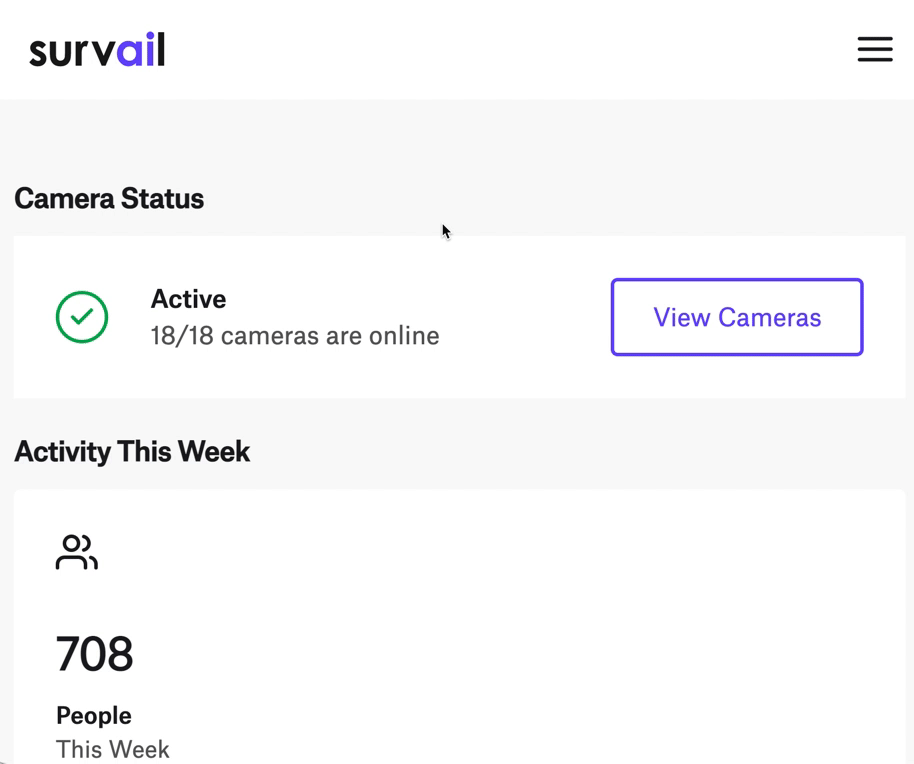 Use Cases:
Cost Savings, Hardened CyberSecurity, Using Video to Improve Operations and Revenue
Survail lowers the total cost of managing and upgrading camera systems at scale by reducing the time your team spends using the device, setting up networks, and managing cyber security risk.
Survail uses video to deliver deep data lakes of information for your revenue and operational teams.
Streamline Security Operations
Survail Saves your IT Team Time and Money
Time is money. Managing a security system is expensive. Survail dramatically cuts down on your IT teams time spent managing devices, finding footage, and performing investigations.
Upgrading a security system is costly. Survail takes away the need for you to have replace infrastructure. It revitalizes existing "dumb" cameras by giving them new features and brings multiple manufacturers into a consistent and easy to use UI.
It is a waste of time and resources for a person to watch cameras for events. Free up your security and IT teams to respond to events rather than locating and identifying them.
Previously, if you wanted new features, you needed to buy all new cameras. Add AI without squandering your investment.
Survail works with any brand equipment, so you can bring all your cameras into this one application. Stop worrying about the capital ramifications of replacing all your cameras to unify features and access. Start unifying your system now.
Because survail identifies your video events for you, you can spend your IT, HR, or security's time on the resolution of the incidents, rather than the identification of those events.
Got 200 locations? That used to mean changing 200 NVR's passwords every time you have turnover. Stop changing passwords. Start simplifying your user management in a centralized service.
Hardened Cyber Security
Survail Secures Your Video Like Nothing Before It
You can't talk about Physical Security without talking about Cyber Security. The threats have evolved and so your camera system must evolve, too. Survail protects your network by eliminating many risks inherent in past systems. It reduces risk by using both onsite and offsite storage mechanisms. It is designed, developed and assembled in the United States.
At rest. In transit. When stored. When viewed. We take whatever crummy cyber security protocols your existing camera may or may not have, and encrypt the whole thing.
Survail uses Cognito from Amazon to make sure you are you, when you log in, which means that we support supports identity and access management standards, such as OAuth 2.0, SAML 2.0, and OpenID Connect.
Survail is designed, developed, and assembled in the USA, which means that it is NDAA, TAA, and Made-In-America compliant. The surveillance industry has been rocked to the core by hostile foreign government buying and controlling major surveillance industry players. There's no risk of that with survail. SCW designed it, created it, maintains it, and as a private corporation, we know exactly who our shareholders are and who they aren't!
The threats have evolved and we have too. The biggest news in physical security has been the cyber security issues with traditional systems. With survail, you can continue to use that existing hardware without exposing yourself to the cyber security risks associated with open ports.
By default, all video footage is stored on the local device and won't eat up all your bandwidth uploading video that may not be of high value.
Unlike other cloud-surveillance providers, if someone cuts your internet connection, you won't miss a thing.
By default, with Survail, any AI detected video event that you think is worthy of an alert is backed up into the cloud and stored for 30 days.
All meta data and event image snapshots are also stored in the cloud.
With proper camera placement, if someone breaks in and steals your survail box, you should be able to reconstruct what happened.