In Development Planning
What it does:
The People Re-ID Model creates a database of images and then looks for visually similar people and groups them in the user interface, so that you will be able to trace people across camera views / events.
Because People Re-Identification looks for visually similar images, it mostly compares outfit similarity, as such, it resets daily, unlike facial recognition.
Unlike facial recognition, it does not require a specific angle of view and works even when the subject is not facing the camera. Because it primarily compares clothing, it is not generally considered biometrics, so if your country or jurisdiction has banned the collection of biometric information, People Re-ID may be able to still be used (consult your local laws).
Allows you to suppress alerts, group event by the presence of a person. Allows you to run and validate chained classification and recognition models.
Best Practices:
Prerequisite:
Requires people detection and its camera placement requirements. People Re ID only runs once a person has been detected.
Situationally Useful: Limitations in Uniformed Environments:
Like all our models, People Re-Identification can be turned off or on.
In a typical office environment, People Re-ID can work very well, as the odds of multiple people wearing the same outfit are low. In this situation, People Re-ID is usually more useful than not. In these installations, we recommend People Re-ID to be turned on.
On the other hand, People Re-Identification will work poorly in situations where many people wear the same uniform or outfit. We suggest turning it off in such situations. In these installations, we recommend People Re-ID to be turned off in favor of Facial Recognition based grouping (Face Detection and Facial Recognition required). Facial Recognition grouping requires more precise placement of cameras to make sure that all people have their face visible in camera feeds.
Single Day Limitation:
People ReID resets nightly, to account for the fact that people tend to change their outfits daily.
People Grouping and Search inside the Survail user interface:
People grouping works on either (or both) facial recognition and people re id data points. If people Re-ID associates an event to the wrong person, you can correct that within the application:
In the below example, the name "Luis Milano" and the tags "Employee" and "Delivery Personnel" have been assigned by the user.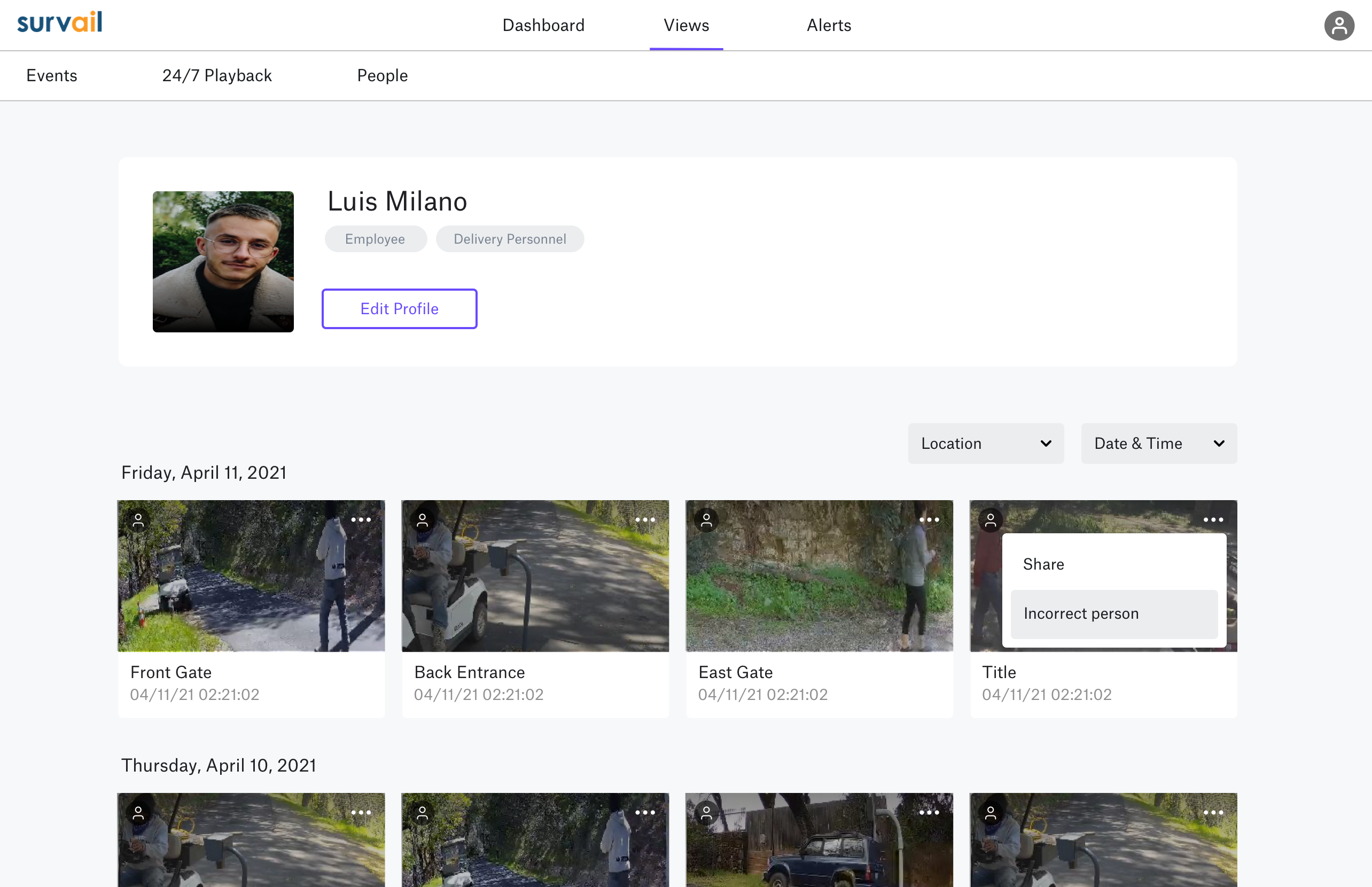 This model was made by Intel.