In Development Planning
What it Does:
Face Detection, People Grouping, and Search inside the Survail user interface:
People grouping works on either (or both) facial recognition and people re id data points. The Faces found are used as in the UI as the icons for the groups.
In the below example, the names of each face have been assigned by the user. If no names have been assigned, a number will be assigned to each person.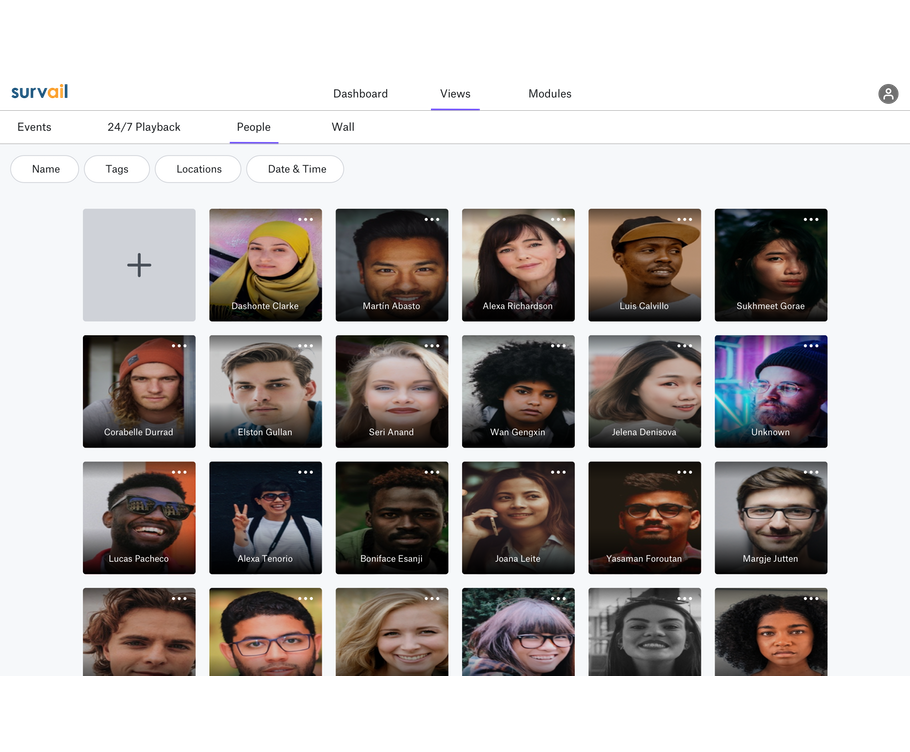 Legal Limitations:
This is the only survail model that collects and creates databases of specifically biometric information. This application is not part of the survail platform and is created by third parties.
This list is not meant to be exhaustive and we're not lawyers, but as far as we can tell it is not legal to use facial recognition in Illinois or Portland, OR. It is also not legal to integrate either of these third-party facial recognition modules, if you are a government entity located in Alameda, CA, Baltimore, MD, Berkeley, CA, Boston, MA, Brookline, MA, Cambridge, MA, King County, WA, Madison, WI, New Orleans, LA, Northampton, MA, Oakland, CA, Pittsburgh, PA, Portland, ME, Somerville, MA, Springfield, MA, Jackson, MS, San Francisco, CA, Minneapolis, MN, Vermont, Portland, OR, or the state of Virginia.
If you are located in the EU, you will need to confirm that your use of facial recognition is consistent with the guidelines for biomentric information collection in GDPR.
Process of adding facial recognition:
If you want to add facial recognition to your survail account, the process is quite easy. Inside the app, under modules, go to facial recognition and click "enable." Because of the above regulations, the facial recognition module runs on a completely separate server than our main application and must be added to the product, manually by the user. Because the regulations are often specific to the entity, you will be required to submit a serpare EULA that declares that you will only enable facial recognition when legall enabled to do so. Survail can be compelled via court order to turn this service off for your account.
Best Practices:
Prerequisite:
Requires people detection and its camera placement requirements. Requires Face Detection and its camera placement requirements.
Additional Camera Placement Requirement:
Faces must be at least 40x40 pixels in size, requiring the car to be substantially closer than the person detector. Additionally, accuracy decreases as the camera angles become sharper, as such the ideal placement for a camera is in front of a chokepoint, like a doorway, mounted around the same height as your audience.
This model was made by Intel.