Same Day Shipping
As long as you order one of our in-house items before we close, your items are going to ship the same day. No more waiting around with a job to do.
Our fulfillment team is fast and if you spend more than $250, you'll get free UPS Ground Shipping. The image (from UPS) below shows average delivery timeline for UPS ground. These delivery times are are only an estimate; UPS ground technically has 7-10 days to delivery your package, so your milage may vary.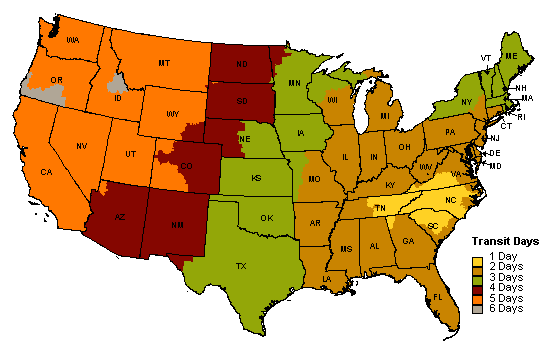 **This image does not reflect our new access control items (which come from a different warehouse) or any specialty order times. Specialty order items involve us tracking down a product for you that we do not have in stock. We will gladly provide that service, but cannot guarentee the ship times of any third party vendor.
International Shipping
International Shipping is available, but all international orders must be made via wire transfer and over email/phone/fax.