Understanding
Fisheye Dewarping
Panoramic Security Cameras use either Hardware or Software for Panorama or ePTZ viewing.
They have Fisheye, Panoramic, and ePTZ viewing options.
What is Dewarping?
SCW offers two 360 models, the Radius 12.0 and Radius 5.0. Both of these models are single lens, fisheye models, which produce a view like this.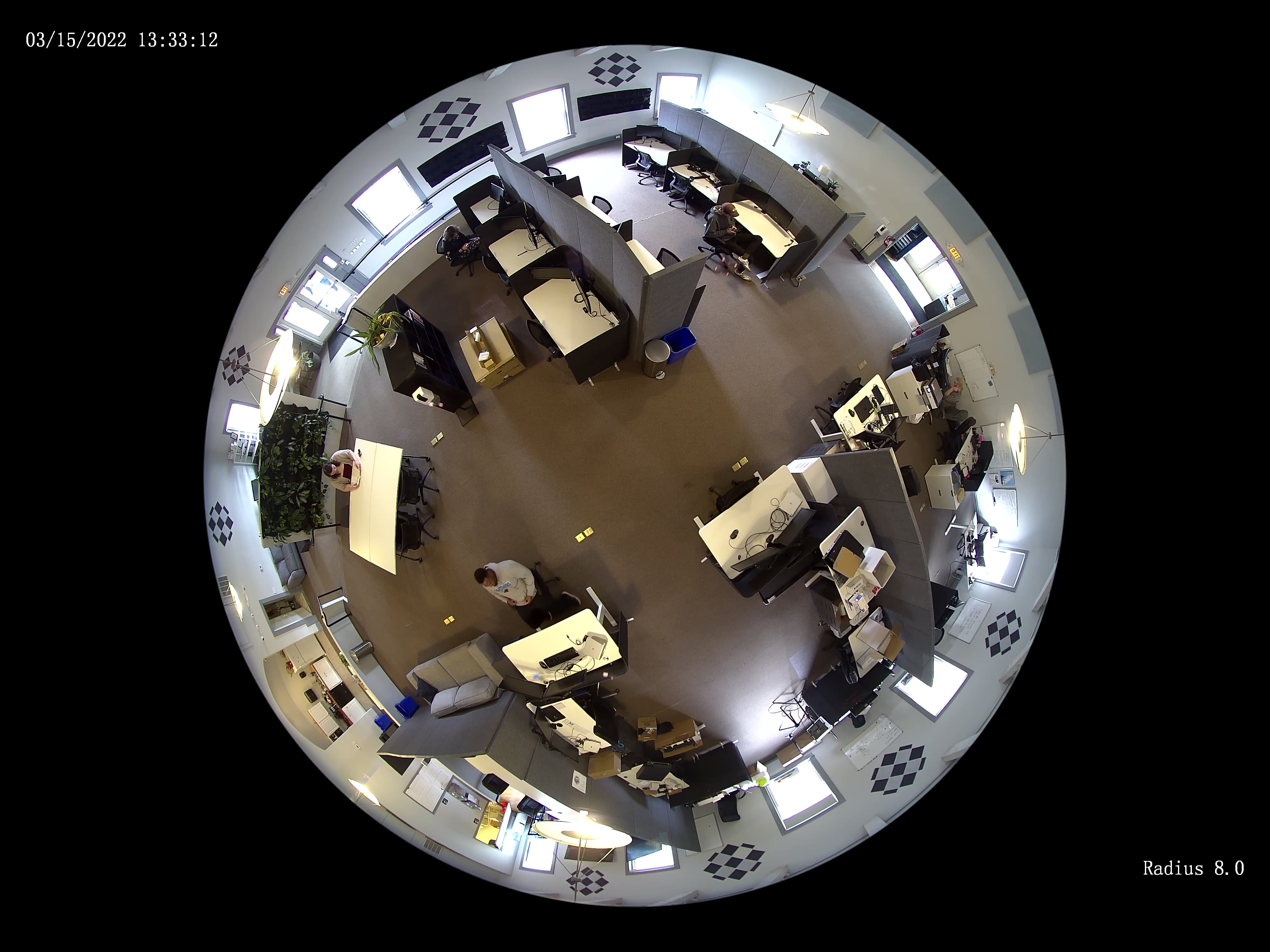 This view, while great for the birdseye perspective, may be difficult to process based on the perspective, which is where dewarping comes in.
Dewarping converts a fisheye "circular" image into something more normal to our eyes.
Types of Dewarping
Dewarping has two outputs and two methods of creating those outputs.
Dewarping Outputs
Panorama - Generally an image split into two halves, showing 180 degree views on each.
ePTZ - Electronically controlled views where you can position them in a specific area.
ePTZ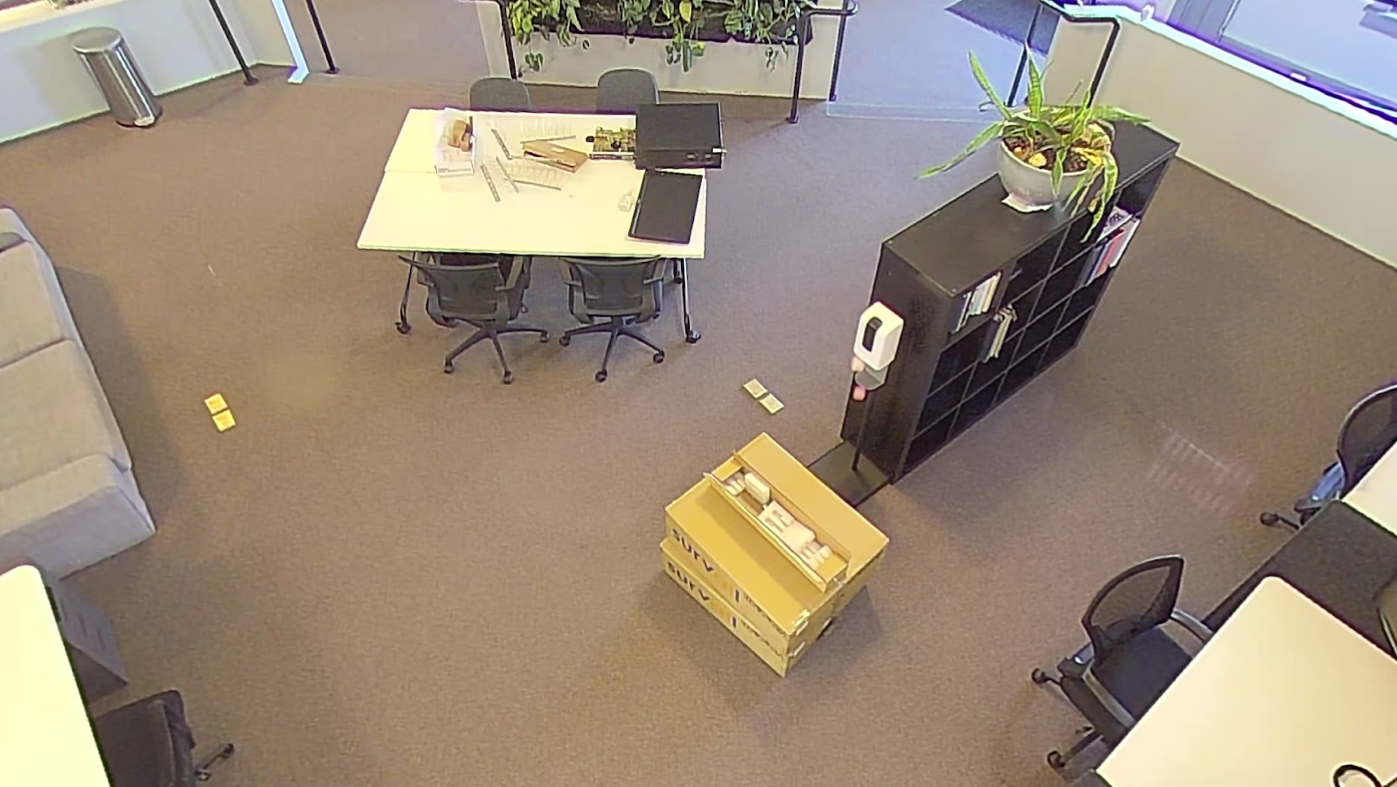 Panorama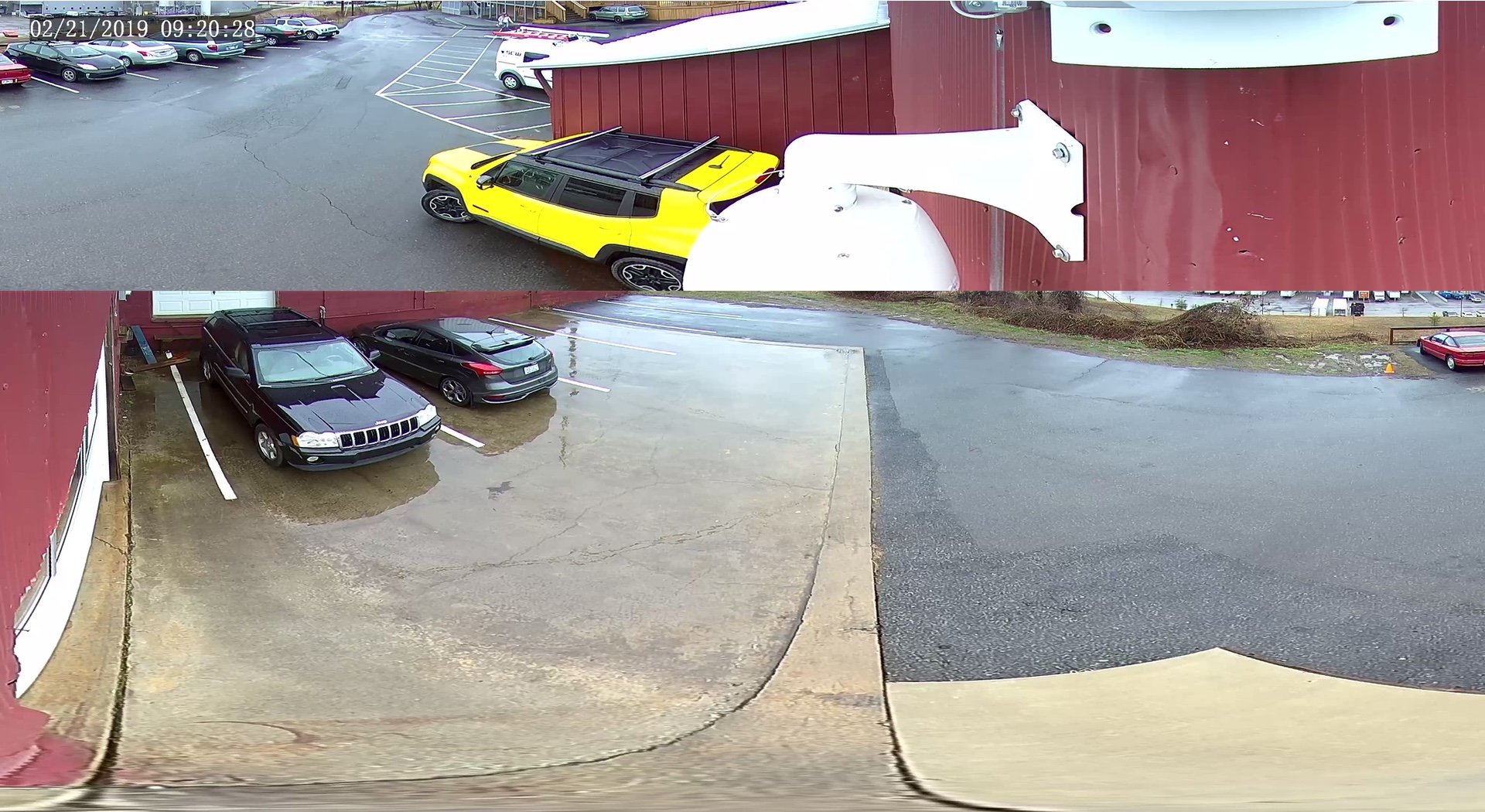 Dewarping Methods
There are two main types of fisheye dewarping, hardware dewarping and software dewarping.
Hardware (on board camera) Dewarping
With hardware dewarping, the camera can dewarp the image itself, and send out multiple channels to the NVR. Each of these channels will occupy a channel on the NVR. record individual streams and act as individual cameras. So for example, if you want to do a fisheye view and 3 ePTZ views, you would be occupying 4 channels on the NVR.
On hardware decoding, a camera has a static view. For example, if you record an ePTZ image, you can not move or dewarp it again to move the position. Giving you less flexibility.
Hardware decoding is useful for NVRs that do not support software dewarping and useful to have a more permanent view in place. Only the Radius 12.0 supports hardware dewarping, the Radius 5.0 does not.
Hardware decoding e-PTZ view. With hardware decoding, this view is static, and can not be moved around after recording.
Software (NVR) Dewarping
Software decoding is performed by the NVR itself, it grabs the higher resolution fisheye view, and dewarps it using the NVRs CPU. The main advantage is that this only takes one camera slot on your NVR, and is more flexible as you can dewarp via live view or playback. The main downside, is that your NVR must support fisheye dewarping to do it via the local (HDMI) interface. Currently, the Admiral 8 Channel v3, The Admiral Standard 16 Channel v3, the Admiral Pro 16 Channel v3, the Admiral Pro 32 Channel v3, and our current Imperial line support fisheye decoding locally.
Even if your NVR does not support fisheye dewarping locally, you can still software dewarp from the Windows version of Viewstation and web interface, as well as SCW Go for Android and iPhone.
Currently, the Mac version of the web interface, VIewstation does not support fisheye dewarping capability.
SIde by Side Video Comparison
Hardware Decoding
Software Decoding
Image Quality Differences
There is little difference in detail quality in software vs hardware decoding. Fisheye cameras in general are not ideal for gathering fine details, due to the large 360 FOV and details are most clear from the standard fisheye view zoomed in.
Another note about quality, due to the nature of the lens, details in the "middle" of the frame, whether dewarped or not, are generally clearer than those on the edge.
Fisheye Live View on NVR - No Resource
Most hardware decoding fisheye cameras offer unique challenges with live view on an NVR. Often they have a very high resolution, and do not offer a substream for the NVR to view while in multi-camera views.
This can create an issue where the NVR's decoding spec is overloaded, causing the NVR to turn off the live view and replace it with a "No Resource" screen. It's important to note, that this is for the live view only - the camera is still recording in the background and can be accessed on playback.
For the Radius 12.0, it's important to check the decoding capacity of the NVR. Keep in mind that other standard cameras, are also contributing to this decoding capability limit.
For example, the Admiral Pro 16ch v2 offers "2 x 4K, 4 x 4MP, 8 x 1080P 16 x 720p"
That means the NVR can only display two 4K cameras at a time, via live view or playback locally on the NVR. Each Radius 12.0 dedicated camera view will be 4MP or higher. Meaning you will only be able to see 4 of these at maximum before running into decoding issues or no resource screens. So having 12 normal cameras at substream + 4 will likely produce no resource on one or more of the fisheye views.
The solution is to limit the amount of fisheye channels you put on the screen at a time, upgrade to an NVR with a great decoding capability, or view from a PC.
/ images

Not sure what you need?
Lean on the experts
We'd be happy to work up a custom quote or take your floorplan and create a security coverage map.
Get a Custom Quote