What you get with Consumer Grade Equipment (Big Box Stores) vs. What you get with SCW
Big Box Stores
Low resolution, grainy footage

"Jerky" looking video by using cheap components with low processing power
Limited and ineffective Night Vision
No Support
Limited and Shorter Warranty
No Customization
Price over quality
People who feel let down after purchasing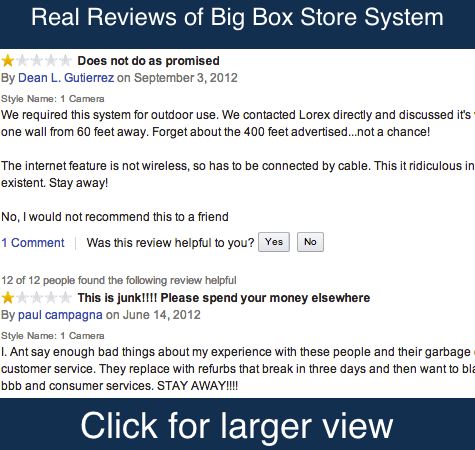 Security Camera Warehouse
High Resolution, crystal clear footage, up to 3x higher than 1080p HD
Effective and longer range Night Vision
Best Support in the Industry
Full 3 Year Warranty
Free Customization
Professional Quality at a Reasonable Price
People Delighted with their Purchase
More Customer Reviews:
"By far, that was the easiest set up for IP cameras that I have ever done. I can't wait to see the NVR."

- Rob, Tyco International, Ohio

5

Show More Reviews

"SCW has assisted in creating a working plan and layout for me. Could not have done it without their expertise!!!"

- Jay, Charter School, Arizona

5

"With SCW, I got some real data and insights and ended up with a much better choice. Highly recommended."

- John, Hedge Fund, California

5

"SCW staff offered me free advice on how to install my new PTZ camera even though it wasn't a product I had purchased from them."

- Steve, Australia

5

"I had questions about a multi-server client and the guy on live chat gave me very honest answers about all the options, not just what they sell! Love these guys!"

- Ryan, Canada

5

Security Camera Warehouse

5

out of

5

based on

7

ratings.

7

user reviews.